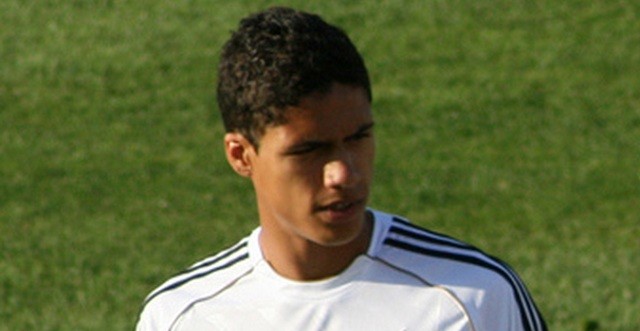 If football fans are asked to name the best young defender in world football at the moment, it would not be surprise to see majority name Real Madrid star Raphael Varane as their choice.
A wonderfully talented defender, Varane has a Champions League, La Liga, Copa Del Rey and UEFA Super Cup title to his name and what makes his achievement all the more impressive is the fact that the French international is only 21.
Therefore, it is safe to assume that there is not one manager in the world who would not want Varane in their respective teams and Real Madrid most certainly possess a gem on their hands.
Varane is arguably the best young defender in world football at the moment
While Madrid are now reaping the benefits of purchasing Varane, Premier League side Manchester United must be tearing their hair out at the fact that they missed out on the opportunity to sign the 21-year old.
Following his breakthrough season with Lens back in 2011, Manchester United were strongly touted to make a swoop for Varane as Sir Alex Ferguson was very keen to get him on board.
Many had even reported at the time that the young defender already had one foot in Manchester and that it was just a matter of time before the Red Devils would snap up the then teenager.
Manchester United missed out on the signing of Varane
As it turned out though, Varane made a move to Real Madrid instead and many were left baffled as to how Manchester United missed out on the defender despite the young man seemingly destined to a make a move to Old Trafford.
Now, Varane has opened up on why his move to Manchester United did not come into fruition and has revealed that the real reason behind this was Phil Jones.
With Varane poised to join, Manchester United signed another promising young defender Phil Jones for big money and as a result, the Frenchman felt that his involvement in the first team would be limited.
Therefore, he proceeded to reject United and joined Real Madrid, who had promised him regular minutes on the pitch, instead – leaving the Red Devils high and dry.
Varane reveals that the arrival of Phil Jones made him decide against United move
Speaking to L'Equipe, Varane said, "Manchester United? They had just signed Phil Jones in my position. PSG? The project there wasn't clear. The Qataris had only just arrived and it was all very vague.
"My first reaction when Real wanted to sign me was not, 'Of course I will go'. I only made my decision when I knew that the coach wanted me to play in the first team."
What do you think? Was missing out on Varane a big blow for United or should the Red Devils take comfort from the fact that they signed Phil Jones instead?