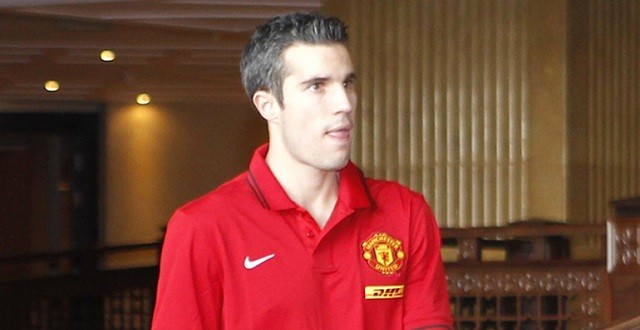 Robin van Persie certainly has a reputation of being bit of a volatile character and the Dutchman has now seemingly fallen out with his own teammate Klaas-Jan Huntelaar over an incident during Netherlands' European Championship qualifying clash against Kazakhstan recently.
In what was a much trickier encounter than first anticipated, Netherlands ended up 3-1 winners at the end but had found themselves trailing through a shock Rinat Abdulin goal for Kazakhstan in the 17th minute of the game.
Netherlands then endured a very nervous spell, where they failed to find the net until the hour mark and it was clear that the fans' frustration was getting transmitted to the players.
Van Persie and Huntelaar involved in a heated exchange
And this fact was evidenced by Robin van Persie and Klass-Jan Huntelaar being involved in a heated discussion over a missed opportunity.
With the scores at 1-0 during the second half, van Persie selfishly tried his luck from a narrow angle when he could have easily squared the ball off to Huntelaar and proceeded to spurn a wonderful opportunity for his side to equalize.
Huntelaar was clearly not impressed with van Persie and made his feelings known to his captain in no uncertain terms. Van Persie did not appreciate the reaction from Huntelaar and retaliated with a few choice words of his own.
Huntelaar adamant that van Persie should have passed him the ball
Despite Netherlands claiming the win later on, the pair could not let the incident slide. Following the game Huntelaar stated that van Persie was on the wrong and should have passed the ball to him.
The Schalke striker said, "If that ball had come to me, I could have ran it in to the goal. I was focused on that chance and wanted to score as soon as possible."
van Persie slams Huntelaar's reaction
However, van Persie was adamant that he had every right to shoot from that angle and claimed that Huntelaar's reaction was a bit unwarranted.
Van Persie said, "In that position I was right to shoot. The reaction from Huntelaar was a bit exaggerated. Anyway, it's normal. He wants to score and that's what we all want."
Netherlands have not particularly impressed in the European qualifiers so far and manager Guus Hiddink would certainly be worried that two of his key men are at loggerheads ahead of an important clash against group leaders Iceland on Monday.