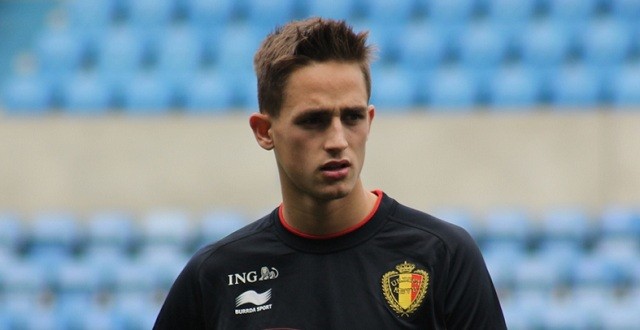 There were certainly not too many positives from David Moyes' ill fated 10 month reign as Manchester United manager last season but one of the very few silver linings for the Red Devils under the tutelage of the Scotsman was the emergence of young Adnan Januzaj.
Despite being a newcomer to the team, Januzaj probably outshone all of his illustrious teammates last season and his fearlessness as well as tremendous ability meant that the young man quickly became a much endeared figure with the Old Trafford faithful.
Januzaj was one of the few bright spots for Manchester United last season
While it does sound strange, David Moyes should be credited for Januzaj flourishing into such a fine young player as it was the Scotsman who took the gamble by entrusting his faith in the youngster and handing him regular first team football.
Moyes is certainly a man who knows a thing or two about identifying young talent after having handed a certain Wayne Rooney his breakthrough at Everton as well and the 51-year old has now gone on to lavish praise on Januzaj by stating that the Belgian international is as talented as the current Manchester United skipper.
Moyes lavishes praise on Januzaj
Moyes believes that Januzaj has the potential to become as good as Rooney and added that the young man is destined to reach the top if he keeps working hard at his craft.
Speaking to the Daily Telegraph, Moyes said, "Adnan Januzaj is, in my managerial time, the best young talent up there with Wayne Rooney. You can see what he can become. When we had Wayne at Everton you could see the potential.
Moyes – "Januzaj is as talented as Rooney"
" Adnan Januzaj has got all that at the same age as Wayne. He's one of the best young talents in Europe and he will go on to become one of the best players.
"Yes, of course, he was young and he was going to not do it all the time but he has incredible skill, a good temperament and with the right degree of arrogance. Wayne was different but in the same way as we saw something special in him at Everton we saw that in Adnan Januzaj. I can only see the boy going right to the top."
Moyes backs Januzaj to become one of the best
Although Moyes may be much maligned, he was the man who oversaw the development of Rooney into such a fine player and his assessment of Januzaj should certainly be taken seriously.
What do you think? Can Januzaj be as good as or even better than Rooney or is Moyes just exaggerating the only bright spot of his torrid tenure?