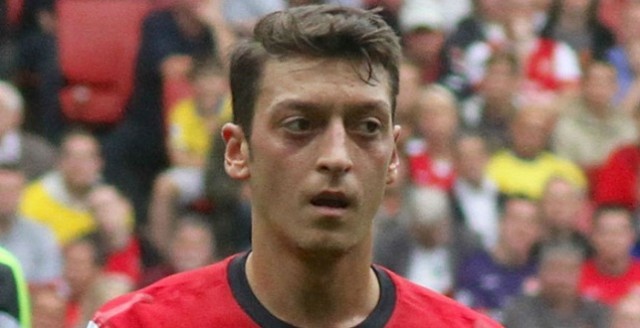 Mesut Oezil will most likely miss the remainder of the calendar year with a knee injury, and no one seems to be too worried.
Undoubtedly one of the biggest signings in Arsenal history, Oezil has never lived up to the potential and reputation he was known for while at Real Madrid. Sure, there have been games here or there where he has shown his worth, but consistently he has not put it together during his time in North London.
Oezil has had the most playing time of any central midfielder this year at Arsenal and thus a lot of time on the ball. With him being out, other players will get their chances to prove they deserve a permanent place in the starting 11. This may end up being a blessing in disguise for Arsenal, as Oezil has been out of form lately, and these other players could be the spark the team needs. Players like Cazorla, Oxlade-Chamberlain, Tomas Rosicky, and even Joel Campbell will benefit from the situation, and surely see extended playing time. Also don't be surprised if Wenger implements a formation change to adjust, so there are really endless possibilities of who starts where now.
I, for one, believe that Arsene will not make a formation change. You will probably agree with that once you remember that Theo Walcott is poised to make his season debut in the near future. Walcott brings some scary speed to Arsenal, and will provide the Gunners with another dangerous winger. He will surely return to his spot on the right wing, and will allow Alexis Sanchez to move over to the left side. The left wing has been occupied by Oezil for the most part, but Alexis will offer a more dynamic and explosive element to that flank. With Walcott and Sanchez on the field at the same time, opposing defenses will have a lot to deal with.
Jack Wilshere will be the leader of the midfield with Oezil gone, and until Ramsey returns from minor injury. Wilshere has been the best midfielder for Arsenal so far this year, and will need to continue his fine form. Wilshere is a purely creative player, finding tight, little spaces and playing intricate passes. His creative style of play is the nearest replacement to Mesut Oezil's. He skips past people in the second third and consistently finds cheeky passes to release other players in space. Unlike Oezil though, Wilshere has the ability to play as a box to box midfielder, meaning that he gets back and helps defensively, which makes him a valuable asset to the Gunner midfield. Jack's only flaw in his game this year is that he is hesitant to pull the trigger around the penalty area, something that should be fixed as his confidence continues to grow.
Aaron Ramsey is expected to lead the team through this Oezil-free time, although minor injury is hindering those plans. As mentioned earlier, Wilshere will have to control the midfield until Ramsey is fully fit again. Ramsey has been playing at the top of the triangle in the center of the midfield, getting forward and making runs into dangerous areas. Oezil is a natural at this position also, although Wenger has preferred him on the left flank. With Oezil gone though, Ramsey will have little to no competition at the spot and will need to shine for Arsenal to salvage a good year.
A surprise beneficiary to Oezils absence could be long time Gunner Abou Diaby. Diaby has had such great promise in his career that contaminated with costly injuries. Wenger has recently stated that he wanted to mold Diaby into his next holding midfielder, his next Alex Song. Diaby has returned strong from his most recent injury, and looked good in the reserve matches he has played in. With the injurys to Oezil and Ramsey right now, Diaby's opportunity to play may come sooner than anyone expected. A big body in the midfield with surprisingly good technical ability, Diaby could turn into a force that Arsenal have lacked over the past few years. If he could somehow use this year to turn his career around and become a new defensive midfielder for Arsenal, the Oezil injury would most certainly be a blessing in that regard.
This adversity will show how much this team really wants it. There is plenty of talent on the roster, some of which just need an opportunity to shine. This horrific news could prove to be a hidden blessing, but only time will tell.