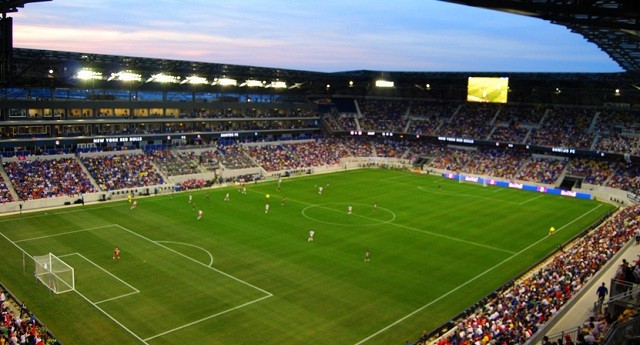 Colombia vs El Salvador will take place at the Red Bull Arena in New Jersey on Friday, 5:00 PM (Pacific) and the match is set to be a significant one for superstar Radamel Falcao, who makes his return to the international scene after a lengthy absence.
Colombia managed to win the hearts of everyone following their fearless showing in the World Cup this summer and as a result, the Los Cafeteros are now being considered one of the best teams in world football at the moment.
Colombia won the hearts of many during the World Cup
Now Jose Pekermen's side will be looking to prepare for the upcoming Copa America 2015 in Chile with a series of friendly matches, starting off with a clash against Central American minnows El Salvador on Friday evening.
While Colombia have been getting all the headlines in international football, El Salvador have also been slowly but surely making progress in recent times. The La Selecta have improved greatly over the last few months and this fact was evidenced by their 1-0 victory over Honduras and a respectable 2-0 loss at the hands of Spain.
Team News
Colombia
The big team news for Colombia heading into the game has been the return of superstar and captain, Radamel Falcao to the national fold after a long injury lay off while new faces such as Yimmi Chará, Edwin Cardona, Pedro Franco and Jeison Murillo have also been called up to the national team for the first time.
For the clash against El Salvador, David Ospina should start in goal while the defence will probably consist of Juan Camilo Zúñiga, Pablo Armero and Cristián Zapata while promising central defender Éder Álvarez Balanta should take the place of former captain Mario Yepes in central defence.
Radamel Falcao makes his long awaited return from injury
Carlos Sánchez and Abel Aguilar look the likely combination in midfield but Fredy Guarín is also in contention. On the wide positions, Juan Guillermo Cuadrado and Juan Fernando Quintero should deployed and playing in the attacking midfield position will be star man James Rodriguez.
Radamel Falcao looks certain to be leading the line for Colombia but Teófilo Gutiérrez, Jackson Martínez, Adrián Ramos and Carlos Bacca will all be in contention.
El Salvador
Unlike Colombia, El Salvador do not have too many household names at their disposal but experienced players such as Léster Blanco and Xavier García have not been called up by manager Albert Roca this time.
Henry Hernández will be starting in goal for El Salvador and the defence ahead of him should consist of Milton Molina, Alexander Méndoza, Néstor Renderos and Ibsen Castro.
El Salvador have improved greatly over the past few years
In midfield captain and star man Andrés Flores is a certain starter while second in command Arturo Alvarez will also take his place in the lineup. Richard Menjivar, Marvin Monterrosa and Óscar Cerén should complete the rest of the midfield.
Experienced striker Rafael Burgos will lone striker for El Slavador and he will certainly be key if his side are to claim an upset on the day.
Probable Lineups
Colombia (Probable XI): Ospina; Zúñiga, Zapata, Balanta, Armero; Cuadrado, Sánchez, Aguilar, Rodriguez, Quintero; Falcao
El Salvador (Probable XI): Hernández; Molina, Méndoza, Renderos, Castro; Menjivar, Monterrosa, Flores, Cerén, Alvarez; Burgos
Colombia vs El Salvador Prediction
It goes without saying that Colombia are overwhelming favourites heading into the clash. While El Salvador are no longer whipping boys, Colombia simply possess a wonderfully strong team full of talented attacking players who can destroy even the best of defences.
The danger for El Salvador to contend with will be duo of Radamel Falcao and James Rodriguez while the likes of Quintero and Cuadrardo also pose a big threat.
However, El Salvador have proven that they have good players of their own and if the Colombian defence suffers a lapse in concentration, the likes of Rafael Burgos, Andrés Flores and Arturo Alvarez are more than capable of capitalizing.
The match will not be a walk in the park for Colombia but they should be able to grab a comfortable victory on the day.
Colombia 2 – 0 El Salvador
Colombia vs El Salvador Television
The Colombia vs El Salvador match will be televised in the USA on beIN Sports en Español and beIN SPORTS CONNECT at 5:00 PM Pacific.