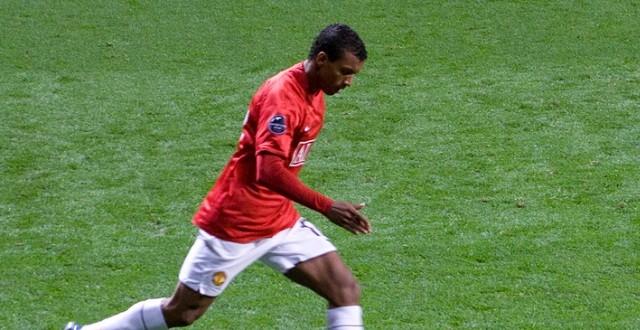 There is probably nothing more frustrating in football than to witness a prodigious young talent not going on to fulfilling their true potential and former Manchester United winger Nani is certainly a man who can be put into the category of players who never really hit the heights that was expected from him.
Nani had arrived at Manchester United back in 2007 from Portuguese side Sporting Lisbon with a reputation as one of the best young players around in Europe at the time and was expected to set the Premier League alight.
After a difficult start to life in England, the winger slowly started to show his class and many felt that he could even fill the huge void left at Old Trafford by the departure of Cristiano Ronaldo in 2009.
Nani was expected to fill the void left by Cristiano Ronaldo's departure
However it was not meant to be for the talented winger. Despite showing flashes of brilliance on occasions, Nani was never really able to add consistency to his game and loss of form allied by persistent injuries meant that the winger hardly featured for United during the last two seasons.
With the arrival of Louis van Gaal at Manchester United as manager over the summer, Nani's days at Old Trafford seemed numbered and as a damning illustration of the winger's fall from grace – he was unceremoniously dumped by the Red Devils on loan back to Sporting Lisbon as part of the deal taking Marcos Rojo to United.
Despite leaving United on loan, it is widely believed that Nani's career at the club is all but over and the winger is unlikely to feature for the Red Devils ever again.
Nani was unceremoniously dumped by United over the summer
However, Chelsea manager Jose Mourinho is among the few people who think that Nani could yet save his United career. Mourinho stated his belief that Nani still has his best years ahead of him and added that his move to Sporting is a temporary solution to reinvigorate his career at Old Trafford.
Speaking to reporters ahead of Chelsea's clash against Sporting Lisbon in the Champions League, Mourinho stated, "Without wanting to enter into areas which aren't my own, it (Nani's move to Sporting) will have been the consequence of the transfer of Rojo to Man United.
Mourinho believes Nani will make a return to United
"What counts in practice is that Sporting have a player of great quality in the best years of his career. Perhaps his aim is not to stay at Sporting until the end of his career, but to relaunch it and return to Man United. He must be very motivated in this new spell."
What do you think? Can Nani still salvage his Manchester United career or is his time at Old Trafford up?