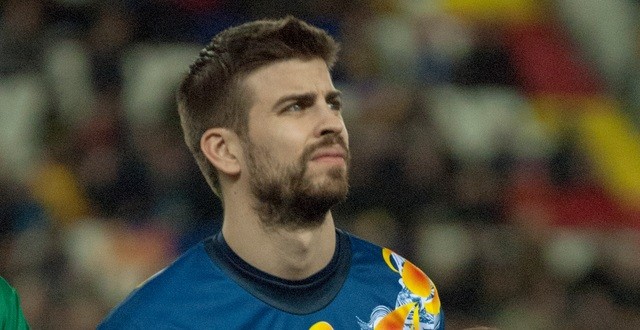 Despite their lavish £140million splurge over the summer, Manchester United still do not look like a side which will be able to challenge for the top four this season as well and this fact was epitomized by their shocking 5-3 defeat at the hands of Premier League new boys Leicester City over the weekend.
Brilliant going forward but woeful at the back, United look a very unbalanced side at the moment and manager Louis van Gaal may well have committed a huge blunder by not bringing in a couple of established defenders to negate the loss of stalwarts such as Nemanja Vidic, Rio Ferdinand and Patrice Evra.
Pique has emerged as a shock target for Manchester United
There is certainly nothing van Gaal can do to strengthen his backline till January but it is believed that the Dutchman has already drawn up a list of potential defensive targets when the transfer window reopens and on top of his list of candidates is Barcelona superstar Gerard Pique.
Pique has been one of the finest defenders in the game for quite a while now and has played a huge role in Barcelona's success over the years. However, the current campaign has not started in the best of fashions for the 27-year old.
Pique has seemingly been relegated to a backup role this season
With the appointment of Luis Enrique as manager of Barcelona, Pique has been relegated to a back-up centre back at the Nou Camp behind the central defensive partnership of Jeremy Mathieu and Javier Mascherano and the Spanish international is said to be not best pleased.
While it is too early to say that Pique does not feature in Enrique's plans, reports emerging from Spain have claimed that Manchester United are looking to pounce and are hoping to take advantage of the situation.
Pique could well welcome a move back to Manchester United
Pique certainly seems like an overambitious target for the Red Devils but the defender did spend a couple of years as a teenager at Old Trafford and has expressed his admiration for the Premier League giants in the past for helping him develop as a player. Therefore, the defender welcoming a chance to make a move back to Manchester could be a distinct possibility.
However, a stumbling block to the potential move may be the fact that Barcelona will surely be reluctant to part with their star defender and even if they enter discussions with United, the Catalan giants are expected to set an exorbitant price on the 27-year old's head.