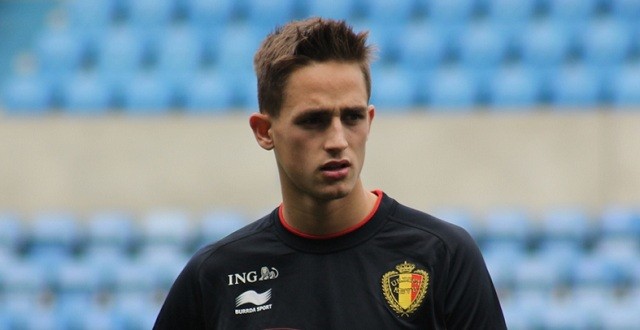 While the 2013/14 Premier League campaign will probably go down as one of the darkest seasons in Manchester United's history, there were a few positives for the Red Devils to look back upon and the emergence of Adnan Januzaj was certainly a small silver lining.
Although the entire United squad was very poor throughout the campaign, Januzaj managed to provide the fans some form of solace with his promising performances and on the basis of his early showing – the young man seems to have a great future ahead of him in the game.
Januzaj was one of the few bright spots for United last season
However, with Manchester United going through a major surgery under new manager Louis van Gaal, where world class players such as Angel Di Maria and Radamel Falcao were brought-in while the academy graduates Danny Welbeck and Tom Cleverley were unceremoniously offloaded – many feared that even Januzaj would find himself in the fringes at Old Trafford due to a drastic change in philosophy of the club.
As a result, reports emerged that Januzaj had fallen down the pecking order under van Gaal and that the 19-year old was unhappy at the club.
Januzaj refutes claims that he wants to leave United
But, Januzaj has now moved on quickly to refute claims that he is not happy at United and has stated that the reports could not be further away from the truth. The youngster also said that he is more than willing to wait for his chance under van Gaal and urged fans to be patient amid the club's struggles at the moment.
Januzaj said, "I saw some reports saying I was unhappy. That couldn't be further from the truth. I love this club and I'm excited to play for this manager. The fans have been so good to me and I want to repay them.
Januzaj urges fans to remain patient
"Everything changes and can change very quickly. We need more time for the new manager. It's very hard for managers to come into Man United. Just be patient. Man United is obviously a big club so obviously I want to do as well as I can and gain lots of experience and win trophies too."
Januzaj made 27 appearances for Manchester United last season and despite the arrival of Di Maria over the summer, the young man is expected to play a big role for the Red Devils this season as well.