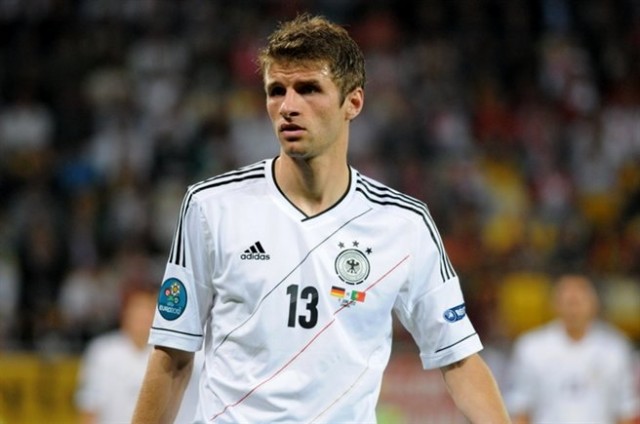 Reigning World Cup Champions Germany will take on Scotland Sunday (11:45 AM Pacific) at Bayern Munich's home stadium, the Allianz Arena. It will be their first game in their European Championship qualifying campaign and both teams will be trying to get off to a positive start. 
Germany will be hoping to bounce back after a disappointing 4-2 loss to World Cup runners up Argentina, while Scotland will be looking to start their qualifying campaign on a high with a result away from home. 
Germany has star Marco Reus back at their disposal, having missed their World Cup triumph because of an injury.
They will have a point to prove, not just because of a 4-2 loss to Argentina a few days earlier, but because it will be their first competitive match after the international retirement of long standing captain Phillip Lahm and all time leading goalscorer Miroslav Klose.
Both players played a key part in the recent World Cup victory and will be difficult to replace.
Replacing Klose, Mario Gomez will have big boots to fill. The former Bayern Munich and current Fiorentina striker will most likely lead the line for the Germans, being one of the only recognized strikers in the German team.
Expect World Cup golden boot winner Thomas Muller to try and help Gomez fill the goalscoring void left by Klose.
Germany has so many stars in their squad with Muller, Mario Gotze, Toni Kroos, and in form Andre Schurrle coming to mind; eyes will turn towards them to help lead Germany forward and avoid a potential World Cup hangover.
Scotland will be very hard pressed to get a result from this game.
It has been 11 years since Scotland took on Germany, and the fans and players included must be looking forward to playing the World Cup Champions.
Some good news for Scotland is that they can call upon Manchester United midfielder Darren Fletcher. Having been out for a while due to injury, he will add needed midfield stability against a powerful German squad.
One of the brightest spots for Scotland must be the form of striker Steven Naismith. He has scored 3 goals in 3 games for Everton, the most recent coming against Chelsea. If Scotland is going to find a way past the impregnable Manuel Neur, it is surely going to come through Naismith.
Scotland will be hoping to qualify for the European Championships for the first time since 1996. They face the toughest start possible in Germany, but a result against the best team in the world would potentially be a springboard on what they hope will be a positive European Championship qualifying campaign.
Germany vs Scotland Prediction
Germany should be comfortable favorites here, but after a 4-2 loss to Argentina, the retirement of 2 of their major influences in the squad, and promised changes to the starting lineup from last game, there really isn't a better time to try and get a result against the Germans.
Joachim Low has the difficult task of following up a World Cup trophy and has a lot of work to do to bring Germany forward.
I will be bold and predict a nervy 1-1 draw. Scotland will be able to hold on and get a result against a German squad that is in the process of rebuilding.
 Germany vs Scotland TV Schedule
The match will be televised this Sunday at 11:45 AM Pacific on Fox Sports 1 USA.