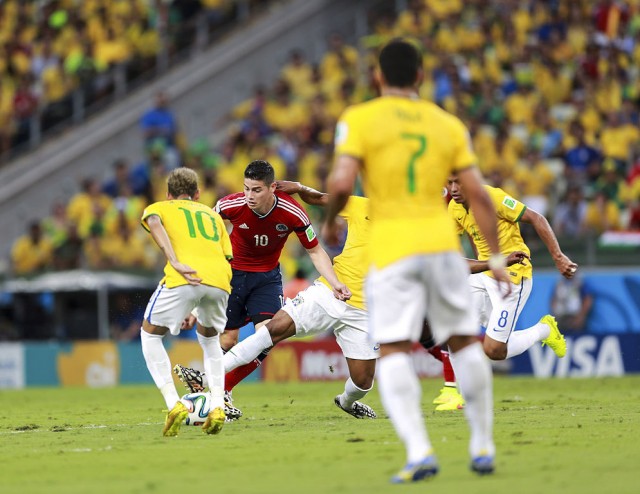 On Friday, September 5, 2014, Brazil and Colombia will face off at Sun Life Stadium in a rematch of the World Cup quarter-finals. The game in Miami will be different in many ways compared to the late June match, one major aspect being that Brazil will enter the match with a new manager, Dunga. The 'verde-amarelha' has added a set of new fresh players to its ranks in this new era, while Colombia looks very similar to that World Cup team.
New, But Improved?
Dunga– back as the manager of Brazil– sees this game as it is, a new era for the national team. Changes have been made in the call ups compared to the World Cup team that Luis Scolari selected.
For starters, six homegrown players have been called up: Jefferson, Gil, Elias, Everton Ribeiro, Ricardo Goulart, and Diego Tardelli. Dunga may be reaching for upcoming prospects or players with hunger. These call ups make this match exciting for those of us looking to see how Brazil recovers from the embarrassment of 2014.
Among the selected players, Coutinho (a player I thought deserved to go to Brazil) will get a chance to impress Dunga. Joga Bonito, a phrase not used as often in Brazil as previous World Cups, is what Coutinho can bring to the national team. The Liverpool creator plays a style of football with mastery of ball control. He brings excitement that has not been seen in the squad.
Finally (and I do mean finally) Fred and Jo will not be in this squad. Both strikers brought nothing to the national team. To replace Fred and Jo, Dunga brought in Diego Tardelli from Atletico Mineiro. We will see how Tardelli works out tomorrow in Dunga's scheme. If Dunga dropped Fred and Jo, why did he not drop David Luiz? One is to wonder if he saw the matches against Germany and Holland. But, we cannot get everything we wish for.
Pekerman Wants Victory
Looking at the team Pekerman called up, he may be taking this friendly a little too seriously. Other than Yepes, Colombia's coach has most of his starting XI at his disposal. We may very well see the same team he used in that quarter-final match in the first half against Brazil.
But the main headline of this match will be the return of Falcao for the national team. Falcao missed the World Cup due to a knee injury that put him off the field for months. The new Manchester United player will want to prove he is ready to play for the Colombian national team once again. Next summer, Colombia will be playing in the Copa America, and Falcao will not want to miss another tournament. James Rodriguez and Falcao on the same field gives an excitement for Colombian fans.
Possible Lineups
For Brazil, it is a bit difficult to say what the lineup will be with new players and manager. If Dunga plans on a slow transition of the team then:
Brazil (4-2-3-1): Jefferson- Danilo, Marquinhos, David Luiz, Felipe Luis- Luis Gustavo, Fernandinho- Ronbinho, Courtinho, Neymar- Diego Tardelli
Colombia (4-2-3-1): Ospina- Zuniga, Zapata, Eder Alvarez, Armero- Guarin, Sanchez- Cuadrado, James, Ibarba- Falcao
Brazil vs Colombia Prediction
With Dunga bringing in a new, unproven squad and Pekerman bringing their best XI, Colombia are favorites to win the friendly. Brazil will play with a mix of experienced players and new prospects which may not be in top playing form. Through the match, Dunga will watch and examine how he will position his players for future matches. Pekerman may be looking for the victory (instead of testing anything new). The Brazil vs Colombia match will end in a 1-2 victory for the 'cafeteros' where Falcao will be present on the scoring sheet.
Brazil vs Colombia TV Schedule
The Brazil vs Colombia friendly will be televised on beIN Sports at 6:00 PM Pacific.