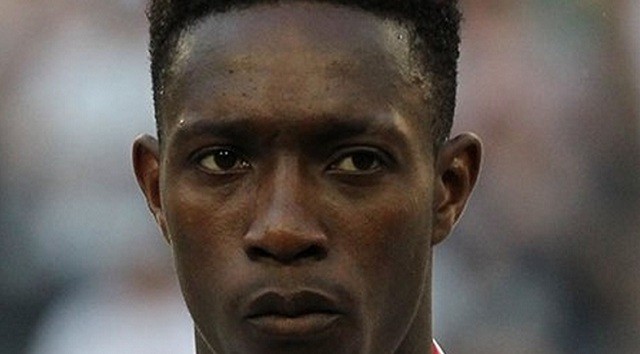 While Danny Welbeck was apparently seen at the Arsenal training ground recently, it was originally only because the English national team were in the area. Now however, he may be there permanently.
Numerous sources from goal.com, nbcsports.com, BBC Sports News, and many others have come out with confirmation that a deadline transfer of Danny Welbeck to Arsenal from Manchester United has indeed happened (confirmed by Arsenal). The monetary figure for the transfer seems to hover in the £16m range (26Million U.S. Dollars), but exact details of the transfer are not made clear.
The transfer apparently hinged on whether Manchester United was able to sign Radamel Falcao or not from Monaco. With new confirmation that Falcao has been signed on a loan deal to Manchester United, the Arsenal signing of Welbeck can now go through.
The valuation for Welbeck is probably a lot higher than Arsenal fans would've liked, considering that the player is being signed from a rival. While he is no doubt a talented player, who offers versatility on the flanks or as striker, Welbeck is still a work-in-progress. He's also not exactly the big-name striker fans of the Gunners were hoping for considering Olivier Giroud will be out injured for the early part of this year's Premier League campaign.
Still, one can't argue that Arsene Wenger hasn't be willing to make big signings anymore, as the club has been very active in the transfer market as of late with the additions of Calum Chambers, Alexis Sanchez, and Mathieu Debuchy.
We can expect that Welbeck will play on the flanks of Arsenal's 4-2-3-1 formation, since Alexis Sanchez will be taking over as lone striker with the injury of Giroud. He will have to compete for playing time and won't be an instant starter right-away, but he will more than likely be a first-choice winger for Arsenal after a few games.
So what can we expect from Welbeck in terms of playing style? How can he fit into the Arsenal squad?
As mentioned before, he is primarily a winger who can also operate as a striker. Arsenal have no shortage of midfield depth (aside from maybe defensive midfielder), but Welbeck can come in and further increase the competition for spots on game-day rosters. He'll be a reliable option and provide excellent depth during the longer stretches of the season, especially since Arsenal are notorious for being injury-prone for whatever reason.
I don't think he will revolutionize the side, but like Sanchez, he can galvanize the Arsenal attack and provide yet another potent threat. When you have the sheer number of offensive weapons that Arsenal have, both on and off the bench, the chance of making something happen and intimidating the opposition greatly increases. While no one would claim Welbeck is a world-beater, he is still a young, exciting player with an already established pedigree in the Premier League. Nothing wrong with that.
Should Arsenal fans be worried or excited about this signing? I'd say "cautiously optimistic" would be the right collection of words to use. Either way though, "In Wenger We Trust", right?