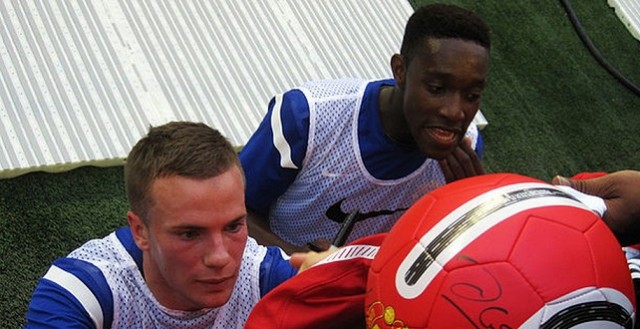 While there has been a lot of talk of a host of players arriving at Manchester United in the next few days, it is clear that manager Louis van Gaal will need to offload a couple of the stars currently present at his disposal in order to facilitate the influx that is expected to take place at Old Trafford.
United's performances throughout the whole of last season as well as during the start of the current campaign has proven that there are a couple of players who are simply not good enough for the Red Devils and if they are to make a return to the top, most of them will have to be moved on.
The likes of Bebe, Wilfried Zaha and Nani have already been offloaded this summer and it seems that the quartet of Tom Cleverley, Danny Welbeck, Javier Hernandez and Shinji Kagawa are all but certain to leave Old Trafford in the coming days as well.
Tom Cleverley has been subject to vilification from the United fans
Tom Cleverley has been subject to much vilification from United's own supporters over the past few seasons and it is believed that the Englishman is finally set to end his hell stay at his boyhood club by making a £8million move to fellow Premier League side Aston Villa.
The likes of Hull City and Valencia are also said to be interested in the England international and United do not seem to have any qualms about whom they offload the 25-year old to.
Welbeck could join Spurs on loan
Another youth product believed to be on his way out of United is Danny Welbeck, albeit on a loan deal.
Welbeck is highly rated at Old Trafford but is unlikely to earn regular first team football under van Gaal this season and it is believed that United are said to be open to sending out the striker on loan, with Tottenham Hotspur looking his likely destination.
Hernandez to leave United in search of first team football
Javier Hernandez is another player who is surplus to requirements at United and seemingly on his way out of Old Trafford.
Although, Hernandez has been a success at United since his move to the club back in 2010, the Mexican international has never been able to cement a place in the first team and at 26, is looking to move away from Manchester in search of regular minutes on the pitch.
Italian giants Juventus are interested in Hernandez and it is believed that the striker could be used as a makeweight in a deal to bring Arturo Vidal to United.
Kagawa has been very disappointing at United
Finally, Japanese international Shinji Kagawa is also certain for an unceremonious exit from Old Trafford.
Kagawa arrived at United with a big reputation but has never been able to show why he was so highly rated during his two year spell at the club and as a result, the Red Devils are looking to cut their losses on the playmaker by sending him back to his former club Borussia Dortmund for a meagre £8million.
The mass exodus certainly seems harsh as all the four players in question are quality. However, tough decisions have to be made in order for United to return back to their glory days and offloading the quartet of Clevereley, Welbeck, Hernandez and Kagawa seems beneficial for both parties.
What do you think? Is offloading the quartet of Cleverley, Welbeck, Hernandez and Kagawa the right decision or will United regret their drastic course of action later on?