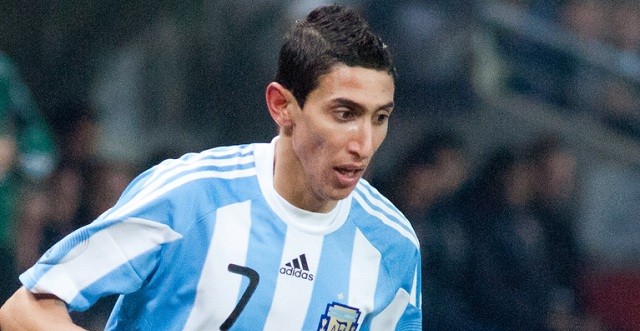 After weeks of speculation, Manchester United are finally on the verge of officially announcing their record breaking £59.7million move to secure the services of Angel Di Maria from Real Madrid, after the Argentinean superstar was pictured arriving at the Red Devil's Carrington facility last night.
United had been hopeful of completing the signing of Di Maria earlier in the week, but the deal was delayed after Real Madrid decided to increase their asking price of the winger in the last minute.
[Pic] (left) Di Maria Arrived at Manchester. (Right) Arrived at Carrington. #mufc pic.twitter.com/W0yi1QSmHP

— Juan Mata García (@Juan_MataGarcia) August 25, 2014
Di Maria spotted arriving at Carrington
Nevertheless, it finally looks like United have now been able to agree on a price for Di Maria and it is just a matter of time before the 26-year old is unveiled as the Red Devils' latest signing. The fee agreed for the winger is believed to be around £59.7million and it could further increase upwards of £70million – depending upon performance related bonuses.
As a result, Di Maria becomes the club's record signing – with the quoted amount easily smashing the £37million that Manchester United had splashed on Juan Mata last season. The Argentinean star also becomes the most expensive British signing ever, eclipsing the £50million paid by Chelsea to sign Fernando Torres back in 2011. 
Di Maria has now arrived at Carrington! pic.twitter.com/f05hLnKhI4 — Joey (@JoeyMUFC_) August 25, 2014
Di Maria will become United's record signing
Di Maria is expected to wear the iconic number seven jersey at United, previously donned by legendary figures such as Bryan Robson, Eric Cantona, David Beckham and Cristiano Ronaldo among others, and the winger will probably make his first start for the Red Devils during their away trip to Turf Moor to face Burnley this weekend.
United have made a very poor start to their campaign despite the much hyped appointment of Louis van Gaal as manager and many have already speculated that the Red Devils are set for another season in mediocrity.
The arrival of Di Maria is expected to give a huge lift to United
With a week left to go before the end of the transfer window though, van Gaal has been looking to strengthen his side with signings of a couple of world class players and the arrival of Di Maria will certainly give the whole club a huge lift.