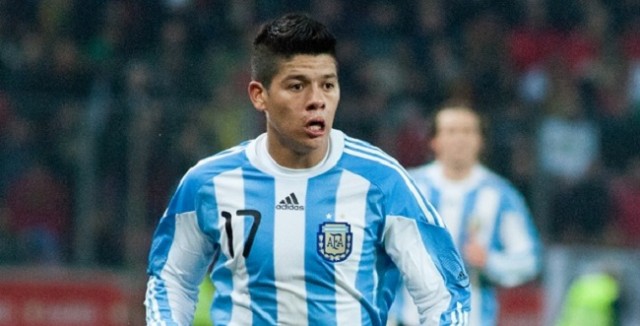 The woeful performance in the defeat to Swansea City on the opening day of the Premier League campaign served as a reminder to the fans and perhaps even manager Louis van Gaal, that if Manchester United are to stand a chance of bringing back the glory days this season, they will have to reinforce their mediocre looking squad with some major signings.
With less than two weeks to go before the transfer window slams shut though, things are getting desperate for United and the Premier League giants are now moving frantically in the market to land the services of a couple of their top targets.
Marcos Rojo finally set to arrive at United
Recently reports had emerged that United are on the verge of completing the signing of Roma star Mehdi Benatia and it has now been reported that the Red Devils are looking to land another long term target in the form of Marcos Rojo in the coming days.
United had already tabled a bid of around £16million for Rojo during the past week, but the potential move was complicated due to the defender refusing to train for his club side Sporting Lisbon in a bid to speed up his move to Old Trafford.
As a result, Sporting had taken a tough stance on Rojo and the club President, Bruno de Carvalho, had revealed that he would force the defender to honour the remainder of his contract at the Estádio José Alvalade following the defender's misdemeanors.
However, Rojo has since apologized to the club hierarchy, as well as his teammates and it is believed that Sporting are finally willing to sanction his sale to Manchester United.
Nani being offered as makeweight in the Rojo transfer
According to reports, it has also emerged that United have offered out of favour winger Nani, as a sweetener to the deal for the Argentine international.
Nani is reportedly out of Louis van Gaal's plans at United and will be sent out on a season long loan to Sporting as part of the £16million move taking Rojo to Old Trafford.
The Rojo transfer saga has been a very long and tiring one but it finally looks set to reach a conclusion and the transfer package perhaps benefits all the four parties involved.