Manchester United and Swansea City will kick off the Premier League season with a matchup at Old Trafford on Saturday, August 16, 2014 at 4:45 A.M. Pacific, 12:45 BST. Both teams look to start their respective 2014-2015 campaign with a win.
MANCHESTER UNITED
Under the guidance of new manager Louis Van Gaal, the Red Devils hope to continue the run of success that was encountered on the Preseason Tour, with wins in all six of their games. With Van Gaal's introduction of the 3-5-2 formation, United can prove to be a challenging matchup for any opponent, as evidenced by the overwhelming success seen in the preseason with Van Gaal's system.
The new manager has begun to implement his coaching philosophy on a group of players who, for the most part, underachieved last season. In addition, the Dutch boss has an uncanny ability to bring out the best form in players and have them play top class football, as seen in his World Cup stint as manager for the third-place Netherlands squad.
The pre-season has been great for Manchester United. Players such as Wayne Rooney, Darren Fletcher, and Ashley Young have played superbly and look to contribute in big ways for United this upcoming season. Rooney, the new United captain, will be seeking to continue his outstanding form as a striker, as he scored five goals in six games in the preseason.
The biggest question marks surrounding United's squad will be the defense. Chris Smalling will have to play a big role and have a good game against Swansea. A clean sheet will be a nice start, but Smalling must find a way to improve on his footwork to prevent easy chances at goal. With only three defenders on the backline, Phil Jones, Smalling, Tyler Blackett and must cover more ground and trust one another with their defensive assignments.
SWANSEA CITY
The Swans also have a new manger in Garry Monk, who is coming off a great finish to the 2013-2014 Premier League season, as he won three out of the last four games to avoid relegation. Monk will have the challenge of trying to turn Swansea City into a 50-60 point caliber squad and not retain a status of bottom-dwellers for the majority of the season.
The Jacks are also coming off a strong preseason campaign with shining performances from midfielder Jonjo Shelvey and new acquisition Jefferson Montero. The Ecuadorian winger will provide superb pace and ball control skills to Swansea's attack.The play of Shelvey and Gylfi Sigurdsson will largely dictate how Swansea will do. The two midfielders must be involved in a majority of the attacking chances, while also taking advantage and utilizing speedy winger Nathan Dyer on the flanks.
If striker Wilfred Bony can find pockets of open space, he can utilize his dribbling skills and acceleration to create scoring opportunities. For Swansea to do well this season, the Ivory Coast International must replicate or improve his 25-goal performance from last season in the Premier League.
MANCHESTER UNITED LINEUP
Formation: 3-5-2
Starting XI:  De Gea; Jones, Smalling, Blackett; Young, Fletcher, Herrera, James, Mata; Ronney, Hernandez
SWANSEA CITY LINEUP
Formation: 4-4-2
Starting XI: Fabianski; Rangel, Amat, Williams. Kingsley; Routledge, Shelvey, Sigurdsson, Montero; Gomis, Bony
INJURY LIST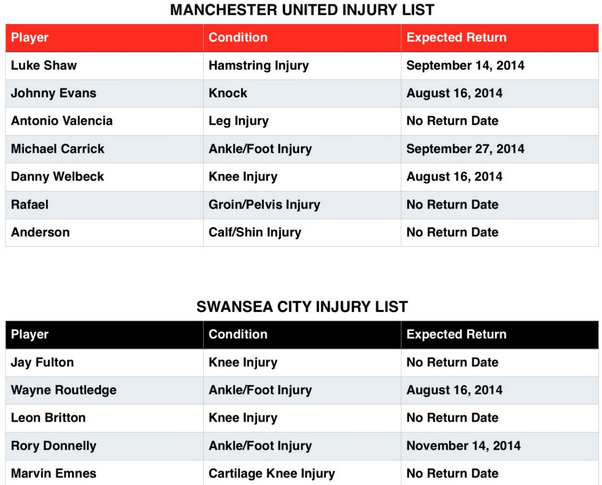 MATCH PREDICTION: 2-0 MANCHESTER UNITED VICTORY
United's class and quality players will find a way to get three points at Old Trafford.The key to winning the game will be the play of the midfielders. If Herrera, Mata, and Fletcher can dictate the flow of the game and make pinpoint passes to advance the ball, more chances will be created for the strikers, Rooney and Chicharito Hernandez. Swan midfielder Jonjo Shelvey will have his hands full in defending United's midfielders, while trying to be a box-to-box threat for Swansea.
TV LISTINGS
NBC Sports Network will provide live coverage of the match in the USA, and BT Sports 1 in the UK.