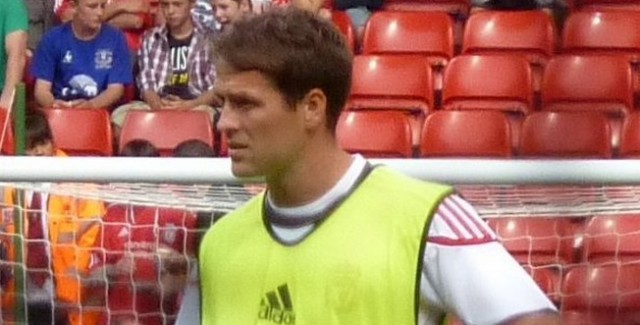 Despite his career petering out unceremoniously, there is no denying that Michael Owen was one of the best strikers in the world during his prime.
Owen burst into the scene as a fresh faced teenager during the 1998 World Cup, after scoring a wonder goal against Argentina. Owen then went on to win the prestigious Ballon d'Or award back in 2001, following his huge contribution in helping his beloved Liverpool to a treble triumph that year – all at the age of 22.
With the world seemingly at his feet, Owen was widely touted to surely go down in history as one of the greats of the game.
Owen had the world at his feet at the age of just 22
Unfortunately, it could not be further away from the truth, as Owen's career hit a remarkable downward spiral after his moves to Real Madrid and then Newcastle United. In what should have been his peak years, persistent injuries meant that the striker hardly featured in four years and found himself as a free agent in 2009.
Despite being only 28, Owen was at the crossroads of his career, where very few teams wanted to take a chance on the former Golden Boy of English football.
Owen's career suffered a remarkable downfall following his move to Newcastle
However, in a move which would shock the whole nation – Owen signed for Manchester United. It goes without saying that the transfer did not go down well with Liverpool fans, and the striker had turned into a pantomime villain at the Red half of Merseyside overnight.
While Owen was largely only a peripheral figure for United, his status as a legend in Liverpool would forever be tarnished and till this day, the fans have not forgiven the former striker.
Owen's move to United tarnished his Liverpool legacy
After keeping mum for a long time, Owen has finally decided to lift the lid on his controversial move to Manchester United. The footballer turned pundit has revealed that after being released by Newcastle, he pleaded for a return to Liverpool.
But the Reds were not interested in taking him back and the only options available to him at the time was Hull City and Everton, before Manchester United came along.
At the end it came down to a choice between Hull City and Manchester United, and the striker has now defended his decision of joining the Red Devils by saying that no one in his right mind would reject the advances of United to sign for Hull.
The striker reveals that he pleaded for a Liverpool return
In an interview with LFCTV, Owen said, "I wanted to sign for Liverpool. I left Newcastle and the first thing I did was phone Carra (Carragher) to speak to the manager. And he spoke to him and at that time Liverpool wasn't an option – they didn't want me back at that time.
"I tried my best to get back and after that it was to look out for who I should sign for, who's the best team to sign for. At the time, I think, the main three teams that were seriously in were Hull, were Everton and were Man United.
Owen has no regrets about joining United
"And, you know, I could have gone to Hull, I suppose. But who in their right mind would? Listen, I'm not a [United] fan, but I've got to try to play at the best level possible. Liverpool didn't want me at the time, so I signed for Manchester United."
Owen eventually ended his illustrious career without much fanfare with Stoke City at the age of 32, but his career record of 222 goals in 482 matches is impressive by anybody's standard.
What do you think? Should Owen have joined Hull instead of United due to his connections with Liverpool, or did he make the right choice?