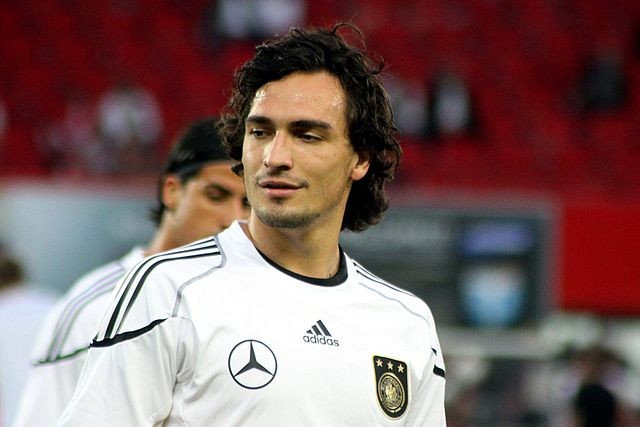 Arsenal have been linked with Borussia Dortmund's star defender Mats Hummels as a replacement for Thomas Vermaelen, who signed with Barcelona this week. Arsenal manager Arsene Wenger is known to have interest in the World Cup champion, while Hummels himself has been linked with an exit from his club all summer. Dortmund are keen to keep hold of their main man and have stated all summer that Hummels is not for sale. However it is thought that an offer of around 30 million euros could tempt the German club into selling. Manchester United and Barcelona have also both expressed interest in the World Cup Champion.
The news that Arsenal were in for Mats Hummels first appeared when Wenger decided that Manchester United "can not go uncontested" for the transfer of possibly the world's best defender. Hummels would no doubt be a boost to Arsenal's squad depth, but the question is, would Arsenal actually need a player of Hummels' caliber?
I do not believe that Arsenal need Hummels. If Hummels were to join the squad, he would come with a hefty price tag of 30 million euros. That 30 million euros could be used towards the areas that are more crucial, such as a defensive midfielder. Arsenal have been strongly linked with Marco Reus, William Carvalho, and Sami Khedira. These three players would show significant upgrades in their respective areas, whereas buying Hummels does not necessarily guarantee an upgrade.
The chemistry between Mertesacker and Koscielny is undeniable. For almost two years, Arsenal did not lose one game with the two of them starting at center back. Last Premier League season, Arsenal managed 16 clean sheets with the pair in the back line. If Hummels were to be brought in, he would no doubt expect a starting role, considering he is one of the top five center backs in the world. This would disrupt the chemistry of the defensive line.
Although Mertesacker and Hummels were paired together in the World Cup, if the Borussia defender were to join Arsenal, it would most likely be Mertesacker sitting the bench. This is because both Hummels and Mertesacker lack the pace of Frenchmen Laurent Koscienly, who can chase down attackers and interecpt long balls using his speed. The current Arsenal defensive pair is very organized and flowing very well at the moment, so I do not expect Arsenal to move for Mats Hummels this summer.
Arsenal could, however, sign a less pronounced center back. Calum Chambers has fit in brilliantly during the pre season, and even did a tremendous job against Manchester City in the Community Shield, but at 19 years old he may not be ready to start at center back repeatedly if Mertesacker or Koscienly were to pick up an injury.
It is said Arsenal may be looking at Liverpool want-away Daniel Agger, who has certainly fallen out of playtime. Although it would be a miracle if Wenger could bring Agger to the club to play second fiddle, just as he was at Liverpool. If Arsenal do buy a center back this year, do not expect it to be a marque signing like Alexis Sanchez or Mesut Ozil, because Arsenal are not looking to replace their center back duo, just to get a quality sub in case of injury.
Signing any player or not, Mats Hummels should not be coming to North London this summer. His hefty price tag, along with the role that he would play at the club do not make him the signing that Arsenal need right now.