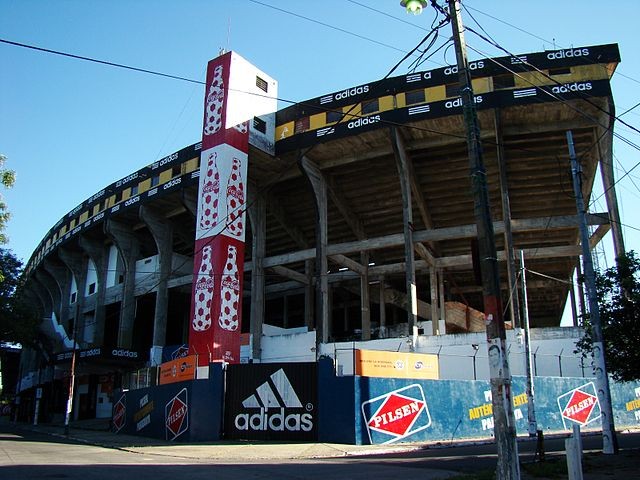 The Nacional vs San Lorenzo Copa Libertadores Final, the 2nd biggest club competition in the world, kicks off this Wednesday (5:15 PM Pacific), with Club Nacional of Paraguay taking on Argentina's San Lorenzo in the Estadio Defensores Del Chaco. You may have been expecting the venue to be the Estadio Arseno Erico, as they have played all their games there this season, but in Paraguay, the biggest games are played at their biggest and best stadium, the Defensores Del Chaco.
This is being dubbed the biggest game in Nacional's 110 year-history, as they have never made it past the second round and are looking to become the first Paraguayan team outside of Olimpia to win the competition. San Lorenzo, on the other hand, are trying to stop being the brunt of jokes of other soccer clubs in Argentina. Jokes which result from them from being the only one of Argentina's big 5 (Boca Juniors, Independiente, River Plate, San Lorenzo, and Racing) to have never won the Copa Libertadores.
Nacional Team News and Predicted Line-Ups
Nacional will have to deal with the loss of key midfielder Marcos Riveros to yellow card accumulation (unless his ban is lifted, which if that happened would be a huge benefit to Nacional). Center forward Brian Montenegro is also a doubt with injury, and if he is not fit, Fredy Bareiro will likely play. The former is a much bigger loss than the latter, with Nacional's coach Gustavo Morinigo trying to analyze all his options to see what can be done to replace the creative midfielder. The solution Morinigo will likely go with is to play Julio Santa Cruz behind the two strikers.
Here is the probable line-up for Nacional:
4-4-2– Ignacion Don– Ramon Coronel – Leonardo Caceres – Raul Piris- David Mendoza- Silvio Torales – Marcos Melgarejo – Derlis Orue  – Julio Santa Cruz– Julain Benitez – Brian Montenegro
San Lorenzo Team News and Predicted Line-Ups
San Lorenzo are set to make three changes, with Gonzelo Prosperi, Mauro Cetto, and Nicolas Blandi making way for Julio Buffarini, Fabricio Fontani, and Mauro Matos respectively. All three are like for like substitutions. Also, all three have played a role so far for San Lorenzo in this competition, so it's not like someone will be having to make a debut in the final.
4-4-2 – Sebastian Torrico – Julio Buffarini- Fabricio Fontanini- Santiago Gentiletti- Emmanuel Mas- Hector Villalba- Juan Mercier – Nestor Ortigoza- Ignacio Piatti- Leandro Romagnoli- Mauro Matos
Players to Watch
Nacional: Julio Santa Cruz
Nacional have relied on home form in the Libertadores, and if they take any lead going into the second leg, they will likely sit back. And if they do that, San Lorenzo will likely win, as they will be able to better capitalize on their opportunities than Defensor Sporting. So, the key to making sure Nacional have a big enough lead to take into the second leg will be Julio Santa Cruz, he needs to connect the midfield with the attack. 
San Lorenzo: Hector Villalba
San Lorenzo is an older squad, and they will need Villalba to provide the energy for the team. He has only scored seven goals (according to transfermarkt.com) so far with San Lorenzo.  But with a group of veterans like Juan Mercier and Nestor Ortigoza who love to do the simple, Villalba will need to give San Lorenzo that youthful exuberance.
Key to the game: The Midfield Battle
Both teams are playing with four midfielders, but San Lorenzo have the advantage because, as mentioned, one of Nacional's crucial midfielders, Marcos Riveros, will likely miss the match. (Also, San Lorenzo have the Pope on their side, but I digress). With both sets of midfielders more prone to defense than attack, it will  be interesting to see how they shut down each other's forwards, while at the same time see how they can create chances for their forwards.
This will be a case of a dynamic, young midfield, against a veteran, experienced midfield. I think Nacional's young players will feed off the motivation from playing at home, and be able to do enough to create plenty of opportunities for Nacional to score.
Nacional vs San Lorenzo Prediction
Nacional, as they have done this whole tournament, will take a slender lead going into the 2nd leg. I predict 1-0 to Nacional.
Nacional vs San Lorenzo TV Schedule
The match is on Fox Deportes, this Wednesday, August 6, 2014 at 5:15 PM Pacific.