The Club America vs Xolos Tijuana Liga MX match will be held this Saturday, July 26, 2014 (3:00 PM Pacific) at the Estadio Azteca. Aguilas and Xolos match-off in one of the most noteworthy games during Week 2 of the Apertura 2014 as coach Antonio Mohamed faces his old team for the second time.
Club America receives Xoloitzcuintles in their first home match of this Apertura 2014 season. The team coached by Antonio Mohamed has very high goals and expectations for the young campaign, therefore a win against Tijuana is necessary in order to start the season on a high note. Last week, America won 2-1 against the reigning champs Leon, where a win this Saturday would position them already with 6 points in the first two games.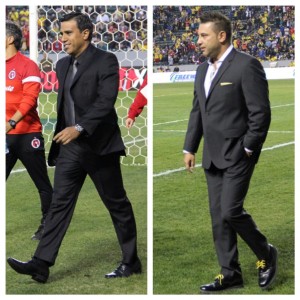 The team coached by Cesar Farias also has high goals and expectations, although their hopes may be a bit dimmer as the talent in Tijuana is not as high as that of America's. In their first game last week, Xolos lost 1-0 against relegation contender Puebla. The loss is a sign of bad form, but more importantly, it creates pressure in the Xolos camp as another loss will create a terrible start to the young season.
Club America vs Xolos Tijuana Prediction
Club America and Xolos of Tijuana will play an exciting match which will be highly contested, but dominated by the team from 'coapa'. Xolos showed last week that too many new players led to confusion, and this Saturday may be the case once again. Mohamed and his pupils will control the ball, lead the attack, and take advantage of their home-opening fan support. The America vs Xolos match will end in a 2-1 win for the home side.
Club America vs Xolos Tijuana TV Schedule
The Club America vs Xolos Tijuana match will be televised on Univision at 3:00 PM Pacific.