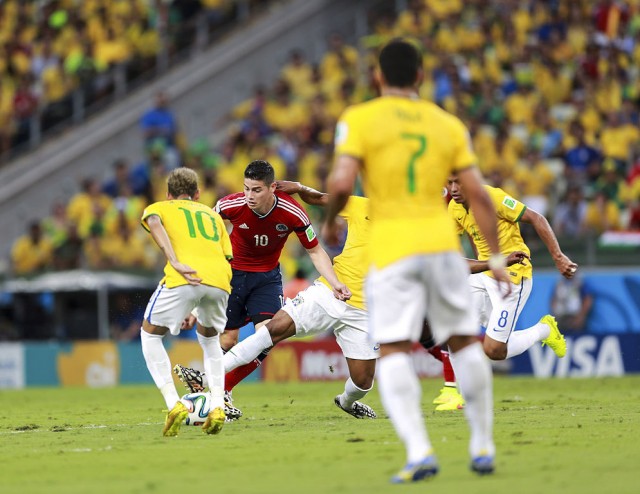 One of the World Cup's biggest and youngest stars has signed a six-year deal with Real Madrid. The European champions will pay AS Monaco upwards of 70 million euros for the young Colombian number 10. With preseason already up and running for Los Blancos, coach Carlo Ancelotti now has two new midfielders to add to his already impressive roster. Many managers would love to have this kind of trouble, since he has eight quality midfielders to choose from. This season will put a lot of pressure on the team. Having won the Copa del Rey and the much-anticipated 10th Champions League, Madrid will fight for six titles now and with such an expensive and quality squad, they are expected to win it all.
James will always remember this day as the day he achieved his childhood dream, a dream that not everyone gets to achieve. Throughout his life he has been very open about the fact that he desired to play for Real Madrid. This dream and his unmissable talent were the ones that helped the club seal the signing quite fast. The day kicked off with the usual medical examination that all players must go through before being cleared to sign. James passed the test with flying colors since he comes from a great World Cup performance leading Colombia to the quarter-finals. The official unveiling was set to occur at 1pm Madrid time, but because his entire country is as excited as he is, the club moved it to 8pm in order to make it more accessible for Colombians.
At the unveiling, he was given the number 10 shirt, one that requires a lot of responsibility to carry. Mesut Özil, Wesley Sneijder, Robinho and Luis Figo are some of the most recent ones to have worn it and a lot will be expected from James. With a short, but honest speech, the youngster assured everyone that this was his dream and that he hopes to win many titles here. Once he put his work clothes and got on the pitch, madness ensued. Over 30,000 fans arrived at the Santiago Bernabéu to welcome their new player. The majority of the crowd was Colombian, since the South American country has a large population of immigrants in Spain. James was very sweet with the youngest fans, as he did everything he could to give some of the balls to them personally and make their day. A pitch invader tried to ruin the moment, but James handled it well, as he pleaded that the security staff treat him better. He hugged the fan and led him out of the pitch. After living his first moments as a Madrid player, he was set to give a press conference.
Less than a week ago, new Madrid player Toni Kroos gave a very memorable press conference, since he was brutally honest and professional with his answers. James is a very different man and he handled questions about his high price, the overcrowding of his position in the team and the pressure of being a Madridista with honesty and humility. Coming off as shy and quiet, the player showed that he's the type of person to speak on the pitch.
After two new signings and with the possibility of another one coming true soon, the club will most likely offload some players. With James' arrival and if Ancelotti retains his 4-3-3 formation, the club will need to part ways with some midfielders to keep things in balance. A classic number 10, James will offer Real Madrid great vision, goals and those key last passes. Only time will tell if the Colombian was worth the hefty price tag, but for now, the player has achieved his dream and having him on the team can only make the competition better. James will join the rest of the squad at their U.S. tour on August 1st.