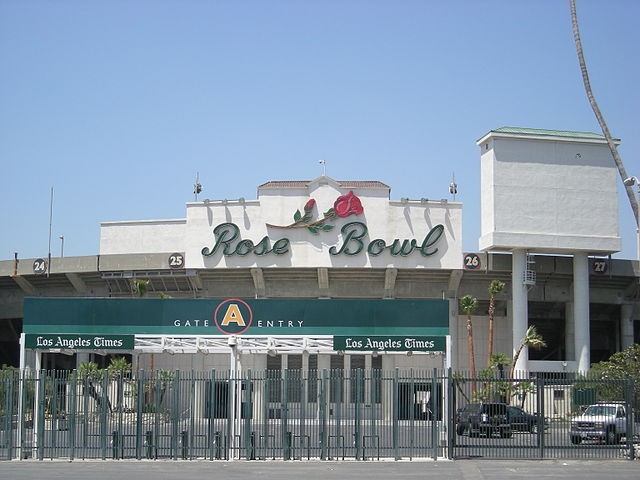 The Manchester United vs LA Galaxy friendly match will take place this Wednesday, July 23, 2014 (7:30 PM Pacific) at the Rose Bowl in Los Angeles. This will be the first preseason game for United during their visit to the United States. The Galaxy will take a break from MLS competition to play in the fixture. Currently, the Galaxy sit in fourth in the Western Conference with 27 points.
This will be the first game for new manager Louis Van Gaal and all eyes will be on him. He has just come off a third place finish at the World Cup with the Netherlands. Fans and media alike will want to see how his style differs from David Moyes and to see if Van Gaal can get United back to playing like a top club should.
In his first press conference, Van Gaal made his intentions and goals very clear.  He first talked about his credentials and how he has brought success to many clubs.  He then talked about infusing his philosophy into the team, much like he did with the Dutch National team.  He did not make any promises about where United would finish in the table, because he is more focused about having the players and club adapt to his style.  Although these preseason games will not give us a crystal clear picture of what United is going to be like this season, they will show everyone a glimpse of how Van Gaal operates as the new manager.
Van Gaal will be playing his preseason games with a very different looking United squad.  United have already lost five players to other clubs so far.  Former Captain Nemanja Vidic has joined Inter Milan, Former Vice Captain Patrice Evra has just joined Juventus, Club Legend Rio Ferdinand has joined QPR, Alexander Buttner has joined Dynamo Moscow, and Bebe looks to be joining Benfica.
Also not included in the 25-man travel squad is Anderson and Carrick (injury).  Robin van Persie, Fellaini, Januzaj, and Hernandez will be joining up with the squad later after their extended holiday.  James Wilson and Tom Lawrence, who were featured at the end of the season, have not made the squad but a handful of other youngsters have.  Tyler Blackett, Michael Keane, Reece James, Jesse Lingard, and Will Keane have all been given a chance to show their potential to the new manager.
While the youngsters have been given a chance to impress the manager for first team football, there are players in the squad playing to keep their spot at United.  Nani, Young, Zaha, Cleverley, and Kagawa are all playing for their livelihood.  Van Gaal will look to continue to bring in players this summer, which means he will continue to offload players as well.  This preseason is about much more than just results.  These next few weeks will shape the final squad for the Van Gaal era at Manchester United.
Manchester United vs LA Galaxy Prediction
This preseason Cup will be a good warm-up for the approaching season.  The strength of the MLS and its teams are growing.  The Galaxy are always a difficult team to play and they will be playing in a stadium that holds nearly 15,000 more fans than Old Trafford.  United can expect a tough match from Bruce Arena's side.  The Galaxy have four wins from their last eight matches, but have only registered one loss.  The fixture should be interesting to watch, because LA will not want to get beat on their own soil and Van Gaal will be producing his first United lineup.  It will be a game of many firsts.
United still seem to be the favorites to win this match.  LA will put on a good showing and will trouble United at times but I think that Van Gaal will get his players to start clicking and they will eventually win the match.  Who knows, maybe Luke Shaw or Ander Herrera will bag their first United goal in their first game as a United player.
Manchester United vs LA Galaxy Television
The Manchester United vs LA Galaxy Match will be televised on Fox Sports 1 USA, Fox Deportes and MUTV.