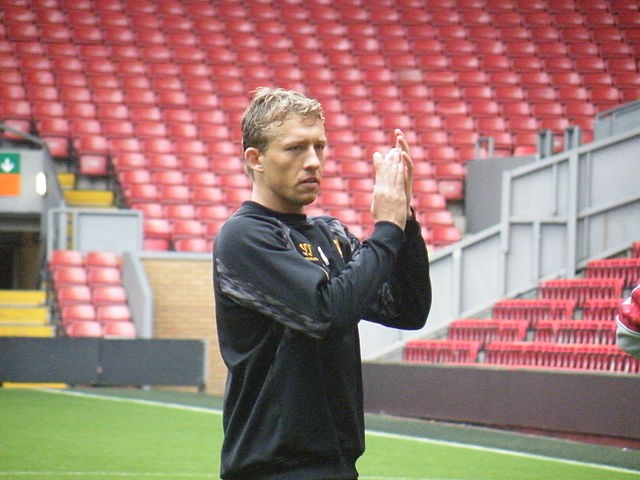 Liverpool brought in their fourth big signing when Lazar Marković signed on to join Emre Can, Adam Lallana, Rickie Lambert and the rest of the Reds.
Marković brings more attacking flair to the Reds' lineup, as all four new signees are offensive minded, but what does that mean for a team that allowed 50 goals in the 2013-2014 campaign?
For one player, it means the team is headed the opposite direction and he wants out, if it does not match up to his playing style. 27-year-old Lucas Leiva has said he wants consistent playing time and it does not look like Liverpool can supply that at this time.
The Brazilian appeared in 27 matches last year for the Reds, having to fight off the skipper, Steven Gerrard, for playing time.  Liverpool is reluctant to ween off the Liverpool legend, Gerrard; so moving him to more of a holding midfield position seemed like the best answer to keep him on the pitch.  But that kept Lucas on the bench.
And with all the attacking mids in front of him, there's no where for him to go.  Philippe Coutinho, Jordan Henderson, Joe Allen, and now Emre Can, will solidify the midfield rotation with Gerrard.
The Daily Star reports that Napoli and Inter are both trying to get the Brazilian to come to Italy.  The report seems credible, and Liverpool seem to be standing in the way.  Liverpool wants a permanent deal for Lucas, while Napoli are begging for a loan for Lucas.
Lucas has stated he wants consistent playing time with the first team, and if that isn't with Liverpool, then he will dart.  It is completely understandable to see where he is coming from, but this would be a significant loss for Liverpool.
He was a key defensive piece for the squad when he played, and with all the changes coming into Liverpool, a new defensive brain has not been acquired yet.  For a team that allowed the ball into their net every other time they scored, that is not a great move on Liverpool's part.
There are too many bodies in the midfield now for everyone to be happy, and maybe it would be best to ditch Lucas and pick up a solid defender, but something has got to give.  Lucas leaving may increase spending money for another big name.  However, right now Brendan Rodgers only seems focused on replacing Luis Suarez, and not on fixing a leaky defense.
Rodgers has a few more weeks to get his guys into camp and then get the roster figured out before the first game at the end of August.  Time will tell what moves come next, but with additions, there usually needs to be subtraction.  The Reds can't afford to lose sight of the defense in an effort to replace Suarez.