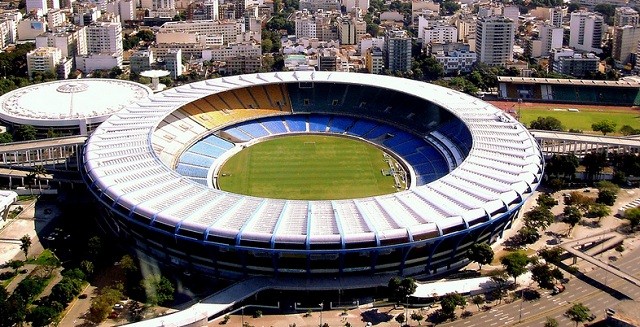 The showpiece Final of the 2014 FIFA World Cup sees Germany (Alemania) vs Argentina take place at the stunning Estádio Maracanã in Rio de Janeiro on Sunday, 12:00 PM (Pacific) and the whole world will firmly have their eyes set on the two heavyweights of football battling it out to earn the title of World Champions.
A two year journey of blood, sweat and tears all boils down to this – a once in a lifetime opportunity to lay hands on the magnificent FIFA World Cup trophy. The World Cup final is more than just a football match, it is a chance to create history, a chance for the players to etch their name into immortality and most importantly – a chance to make their respective nations proud.
Two great teams who share one of the greatest rivalries football has even seen – Germany and Argentina will lock horns on Sunday, and it is fair to say that both sides have deserved to take their place in the final of what has been an enthralling 2014 FIFA World Cup.
Germany and Argentina should be lauded for doing fantastically well to make it this far, but that being said, winning is a part of the DNA of both the teams and one can be sure that neither set of players will be content with only a second placed finish.
Team News
Germany
After ripping apart Brazil so mercilessly in the semi finals, manager Joachim Loew will certainly not feel the need to make any changes to his side on Sunday.
The brilliant Manuel Neuer will be starting in goal while the quartet of Phillip Lahm, Jerome Boateng, Mats Hummels and Benedikt Howedes should continue in defence.
Toni Kroos was brilliant against Brazil and will be pulling the strings from midfield, while alongside him – the duo Bastian Schweinsteiger and Sami Khedira will be providing the energy as well as the protection to the back four.
Veteran Miroslav Klose will be leading the line once again and will be supported by the duo of Mesut Ozil and the fantastic Thomas Muller, while Andre Schurrle will also be in contention following his brilliant cameo against Brazil.
Argentina
Much like Germany, it seems that the Argentinean lineup will remain more or less the same for the clash on Sunday.
Penalty hero Sergio Romero will continue between the sticks, while the impressive unit of Pablo Zabaleta, Martin Demichelis, Ezequiel Garay and Marcos Rojo should start at the back and they will certainly have a huge task on their hands to negate the threat posed by the dangerous German attack.
The solid duo of Javier Mascherano and Lucas Biglia will start in midfield, while Enzo Perez should retain his place in the starting lineup with Angel Di Maria still struggling with injury. Fernando Gago has also been solid and could be in contention if Sabella decides to change things around.
Gonzalo Higuain will be leading the Argentina attack and will be supported by Lionel Messi and probably Sergio Aguero – who will most likely come in for the ineffectual Ezequiel Lavezzi.
Probable Lineups
Germany (Probable XI): Neuer; Lahm, Hummels, Boateng, Howedes; Khedira , Schweinsteiger, Kroos, Özil, Klose, Müller
Argentina (Probable XI): Romero; Rojo, Garay, Demichelis, Zabaleta; Biglia, Mascherano, Perez; Aguero, Messi, Higuain
Germany vs Argentina Prediction

Germany have conquered all before them and have marched their way into the Final. On the other hand, Argentina may not have been as convincing as the Germans, but they have displayed great character as well as spirit to earn their opportunity to contest sport's biggest prize.
Having simply ripped Brazil to shreds in the semi finals, Germany perhaps head into the game in better shape and can be considered slight favourites against an Argentinean side which only narrowly saw off the challenge posed by the Netherlands.
However, Joachim Loew's side will certainly be posed with a more difficult challenge than they were handed against Brazil, as Argentina look a very well disciplined side at the back.
Germany will probably enjoy most of the possession, but will need to show their cutting edge once again to break down the Argentine defence, while Die Mannschaft also have to be responsible at the back to thwart the likes of Lionel Messi and co.
Argentina, on the other hand, will probably look to play on the counter and their devastating pace will be vital in attack, while their workmanlike midfield must also be at their best to avoid allowing too much space for Toni Kroos and Bastian Schweinsteiger at the middle of the park.
The two main players for their respective sides will undoubtedly be Thomas Muller and Lionel Messi, and it would not be an exaggeration to say that the outcome of the game could be decided by how the two stars perform on the day.
The match will surely be a tightly contested affair where minor details could decide which team will come out victorious.
Germany have looked a more cohesive team than Argentina throughout the competition and head into the game looking in better shape.
Therefore, their wonderfully efficient unit should be able to claim their fourth World title on the day and in turn, also become the first European side to lift the World Cup on South American soil.
Germany 3 – 1 Argentina
Germany vs Argentina Television
The Germany vs Argentina match will be televised in the USA on ABC, Univision, ESPN3 (stream) and Univision Deportes at 12:00 PM Pacific.