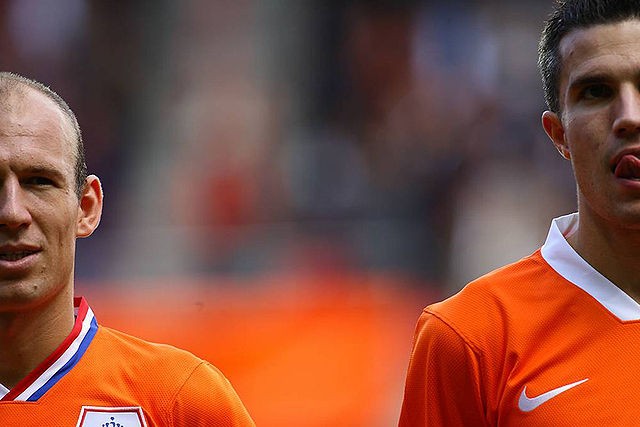 They say penalty shootouts are a lottery, but they really come down to the mental state of each player. You only have a few seconds to decide your fate and if you're not convinced that you will be successful, you are most likely going to fail. Today's match was less than spectacular compared to yesterday's epic showing from the Mannschaft. However, both teams were so tough in defense that it was sort of expected. This squad of 23 men from the Netherlands were a mix of experienced legends and bright youngsters. While this may be a cruel ending to the experienced ones that achieved great things since 2008, it can be a starting point for the young ones. They got to learn from the old ones and maybe they will right their wrongs. After 120 minutes of pure defending, Argentina gained their spot in the final after winning the penalty shootout. Let's take a look at how the Dutch performed:
GK, Jasper Cillesen: 6/10
Not a lot of work in the first 45 minutes, but he blocked a potentially dangerous free kick from Messi. Stayed secure for the rest of the game, although a couple of plays seemed to make him doubt a little bit. His weakness in the penalty shootout was noticeable.
DEF, Dirk Kuyt: 6.5/10
Switched to the left back position after Janmaat came in. He tried his best in the first half, but the Oranje barely went ahead. He insisted for the rest of the game, but the Dutch just weren't building proper plays as Argentina was tight in defense.
DEF, Ron Vlaar: 8.5/10
The best out of the defense today. Solid overall, nobody got through him and doing that against Argentina is a thing to be proud of. He had the bad luck of missing his penalty and it all started to go wrong for his team.
DEF, Stefan de Vrij: 7.5/10
Solid like his partner. A very impressive World Cup from this youngster, the Oranje can trust him to keep the goal safe for years to come.
DEF, Bruno Martins Indi: 5/10
Not a solid performance, since most of Argentina's opportunities in the first half came from his side. He received a yellow card and van Gaal decided to take him out.
DEF, Daley Blind: 6.5/10
Ended up as a central defender after Kuyt took his spot during the second half. He was the weakest out of all the defenders and could've harmed his team from a couple of wrong decisions.
MID, Georginio Wijnaldum: 7/10
Thanks to de Jong's speedy recovery, he was relieved from focusing too much on defense. He gave the right passes when he recovered the ball and pushed the team forward. However, Argentina was so tight in defense that he didn't create a lot. La Albiceleste won the midfield battle.
MID, Nigel de Jong: 5/10
His presence in the lineup was a very welcome surprise as the Oranje gained that muscle and toughness in the midfield. However, he wasn't at his best and was subbed shortly after the hour.
MID, Wesley Sneijder: 6.5/10
He tried countless times to push the Dutch forward, but no real opportunities came to fruition. He also missed his penalty.
ATT, Arjen Robben: 7/10
Not his best first half, but the entire team lacked intensity and creativity. He kept pushing throughout the entire game and had one chance that seemed to be the one, but unfortunately it wasn't. He had a brilliant World Cup and the Oranje should be thankful as he was part of a great generation.
ATT, Robin van Persie: 5/10
Very quiet first half, only had one clear opportunity, but it wasn't very threatening to La Albiceleste. He didn't do more than that and he was subbed in the first 15 minutes of extra time.
Substitutes:
DEF, Daryl Janmaat: 7/10
He was a good move by van Gaal, as he did well in defense and did the best he could in attack given the toughness in defense from Argentina.
MID, Jordy Clasie: 6/10
Finally van Gaal gave him a chance and it may have been the wrong time to put him in. It seemed like giving him that responsibility in such a big match was a bad thing for him. However, he made no mistakes, but he also didn't do anything great for the team. He will definitely be a part of the new generation to lead this team to great things.
ATT, Klaas-Jan Huntelaar: 5/10
Barely did anything important, the team wasn't connecting well and putting such a classic-style striker wasn't a good move.