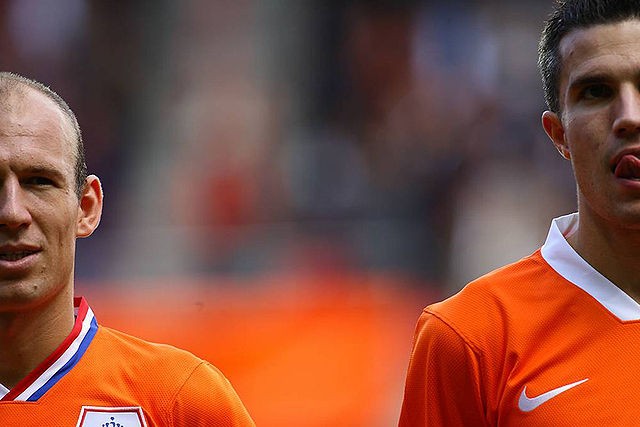 While this World Cup has been full of surprises, the final four teams were probably on people's minds since before the tournament. Brazil as the hosts were a clear favorite, Germany with their strong team, Argentina with Messi and company, and Netherlands with their desire to avenge that 2010 final.
Netherlands and Argentina know there is no more room for mistakes, and if they want to reach the final they need to be at their best. Neither of these teams have shown a consistently dominant and powerful style. They have flaws and have suffered a lot to be here, it is anybody's game and there should not be any favorites.
The Dutch had Keylor Navas in front of them in the quarter-finals, but they did a wonderful job at bombarding him with 20 total attempts. However, they switched the formation and had more people in the attack, since Vlaar, de Vrij and Martins Indi were enough to keep Los Ticos away. The Oranje must do some things differently in order to reach their 2nd consecutive final, much like the historic 1974 and 1978 team led by Johan Cruyff.
Return to the 5-3-2 formation
Argentina have very powerful and dangerous men in the midfield and in the attack, which means that the Dutch need to be more careful in defense this time around. Without Nigel de Jong, that muscle in the middle is lost, even though Wijnaldum did a terrific job against Costa Rica. The battle doesn't look good, since Mascherano is very strong, so it's best for the Oranje to have Blind and whoever ends up as a right back stay focused in defending Cillesen from being reached. Everyone is going to have to collaborate with defensive tasks and still think fast when a chance to counterattack comes around. Louis van Gaal has not made mistakes in the formation yet and he is aware that he cannot give an inch to any of the Argentina attackers.
Annoy Messi
Without Di María, La Albiceleste will lose that surprise and nightmarish element. However, you have arguably the best player in the world in front of you and he can turn around a match in a second if you give him the chance. With that 5-3-2 formation and with high pressure from the Dutch, Messi will be nullified. This is the first truly powerful rival that Lionel will face, since his road to the semi-finals has not really been incredibly hard to overcome. La Pulga suffered this season against Atlético Madrid, other European rivals, and even Real Madrid during the Copa del Rey final. When he feels drowned, he does not function. However, he has the talent to make the best out of a bad situation, but the Dutch know that without Messi, Argentina will have a harder time creating chances.
Think and Act Fast
You do not get to play Argentina every day and it is not every day that Argentina lets you dominate a game. If the Dutch decide to work hard in defense, fewer attacking opportunities will occur, forcing the creative minds in attack to be extra careful, but quick when going forward. Robben is extremely fast and van Persie, Sneijder and even Kuyt or Depay (if they play) can move forward quickly and build effective plays, much like they did against every rival so far.
In addition, acting fast can also force Argentina to give away free kicks and the Oranje is a serious threat in set pieces, since a quarter of the goals they have scored in the tournament have come from these plays. The Dutch do not need to dominate in order to win, but they need to be effective and that only comes from quick reactions.
This match has happened in four previous occasions. In the 1974 tournament, Cruyff and company beat Argentina 4-0. In the 1978 final between the two, Argentina won the title against the Dutch 3-1. The next time they would meet each other would be in the 1998 tournament, and the Oranje sent La Albiceleste home in the quarter-finals after winning 2-1 with a wonderful goal by Bergkamp. In the 2006 World Cup they drew for the first time, with a disappointing 0-0. History cannot predict what will happen, but if one thing's sure is that it will be a match that will be played with intensity by two teams that are hungry for the crown.