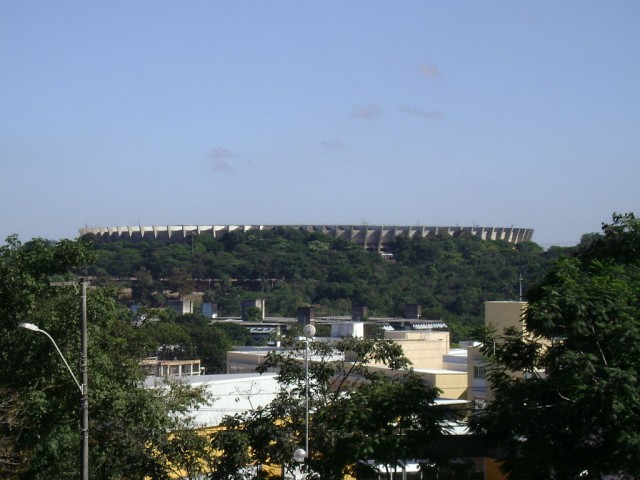 This Tuesday, July 8, 2014 (1:00 PM Pacific), Brazil and Germany (Alemania) will go head-to-head at the Estádio Mineirão in Belo Horizonte on what will be the first Semi-Finals FIFA World Cup match. With the competition reaching its last moments, this match has the ingredients necessary for a historic encounter where the winner will reach the grand final.
The Brazilian supporters had to wait five matches in order to witness their nation's finest performance at the tournament so far. Brazil put up a quality performance against Colombia and managed to sustain all of their opponents' attacking intents especially during the first half. Luiz Felipe Scolari went out from his "comfort zone" and promoted some changes into his team, by leaving Dani Alves on the bench and bringing in Maicon instead and by placing Paulinho in the place of Luiz Gustavo, who was suspended, at the centre of the pitch next to Fernandinho.
The major change, however, was related to the team's tactical approach. Scolari "abandoned" his awkward 4-2-2-2 and placed his team into a 4-4-2 classic approach, with a box-to-box and a defensive midfielder at the centre of the pitch, Paulinho and Fernandinho, two wide midfielders, Hulk and Oscar, who were constantly shifting from the wings to the middle, and with Neymar lurking behind the team's poacher, Fred; it was Scolari's recipe for success. Brazil looked more motivated than ever, applied an intense pressure to Colombia's defence line and forced them to fail several short passes during their game's build-up.
For the match against Germany, Scolari will need once again to reshape his team, since he will not be able to rely on the contribution of Neymar, who suffered a severe back injury, and of Thiago Silva due to suspension. Although it is certainly not easy to replace Thiago Silva back in defence, it is surely fairly more complicated to replace a talented player such as Neymar, since currently Brazil don't have, in their ranks, any player with similar skills to the ones of the Barcelona's footballer.
As for Germany, the match against the World Cup host nation will probably be their most complicated clash in the tournament so far. The last time both sides measured forces at a World Cup tournament was back in 2002, when Brazil lifted the trophy for the fifth time in their history, after defeating the Germans 2-0 thanks, to two goals from Ronaldo.
Germany didn't experience many difficulties to overcome France on the Quarter-finals. The French team struggled to react to Mats Hummels' early goal and only showed some glimpses of their overall quality during the second-half of the match. Joachim Löw implemented some changes for that match and his team went from its usual 4-2-3-1 to a 4-3-3 with Schweinsteiger acting as a deep-lying playmaker behind Khedira and Kroos on the midfield's inverted triangle. Nevertheless, on the match against Brazil, it is likely that the German manager might return to his usual style of play, placing two centre midfielders behind the trio formed by Özil, Kroos and Götze, who offer support to the team's lone ranger, Müller.
Brazil vs Germany Prediction
Twelve years after their last World Cup clash, the Germans will certainly try to avenge that painful 2-0 defeat, but Brazil, who have to be considered favorites for the next Tuesday's match, will probably use the absence of Neymar to bring the team closer together and to impose another bitter defeat to the all-powerful Mannschaft. This being said, the most likely outcome is 2-1 for Brazil.
Possible Line-ups
Brazil (4-2-3-1) – J. César – Maicon – David Luiz – Dante – Marcelo – Fernandinho – Luiz Gustavo – Hulk – Ramirez – Oscar – Fred
Germany  (4-2-3-1) – Neuer – Lahm – Hummels – Boateng – Howedes – Khedira – Schweinsteiger – Kroos – Özil – Götze – Müller
Brazil vs Germany TV Schedule
The Brazil vs Germany match will be televised on ESPN and Univision at 1:00 PM Pacific.