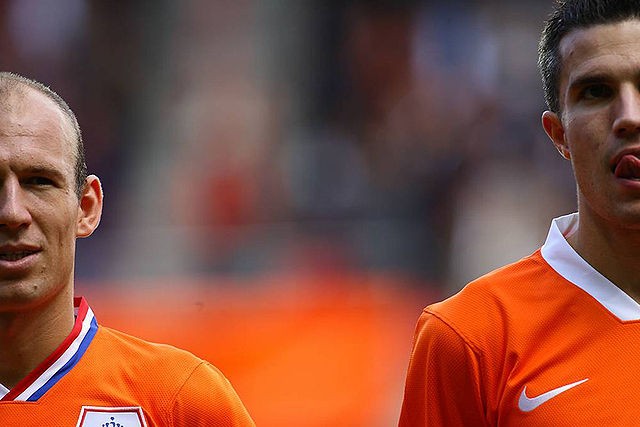 The Dutch are one step closer to getting revenge for their three runner-up achievements. After dominating throughout 120 minutes, the man who was expected to make the Oranje suffer appeared once again. Keylor Navas is by far the best goalkeeper of the tournament and he has left the biggest stage as the true hero of a nation that could've never imagined how far their men would go. In a truly epic showdown, Keylor blocked 8 shots and his luck deviated a couple shots to the posts. Louis van Gaal somehow expected this to head to a penalty shootout and saved his last sub to send penalty-specialist Tim Krul in and it proved to be a genius move. After changing the formation to adapt to Costa Rica's crowded midfield, the Dutch coach also won that battle as his men bombarded Los Ticos constantly. The Oranje is now in the semi-finals and will face a tough Argentina. Let's take a look at how each player performed today:
GK, Jasper Cillesen: 8/10
Los Ticos only approached him a handful of times in the regular time and he was secure and in control. During extra time he saved a very dangerous play that could've cost him the game. He was subbed before the penalty shootout because of Krul's experience.
DEF, Ron Vlaar: 7/10
Solid defending, Costa Rica only had 6 attempts and the Dutch only made 10 clearances. He did his job and was a threat when going up for set pieces.
DEF, Stefan de Vrij: 8/10
One of the standout defenders of the tournament. He may not score key goals or be highly regarded like more experienced players from other teams, but Stefan has quietly done his job throughout all the tournament and is now a part of the final four. Expect him to leave Feyenoord this transfer window.
DEF, Bruno Martins Indi: 7/10
Did everything he had to do, but could've put his team down in a foul inside the box that was controversial. Aside from that, solid like his two other partners.
MID, Daley Blind: 7/10
Moved to the midfield because of de Jong's injury, but somehow remained a faux-left back, helping out on that side and going up when needed. Another player that has had an interesting tournament.
MID, Memphis Depay: 6/10
Decent job, he insisted and was dangerous, but the true weight of the attack was left to Robben and van Persie.
MID, Georginio Wijnaldum: 8/10
Great job replacing the injured Nigel de Jong, he did the dirty work and did it well. If he can keep this level up, he can be crucial against Argentina.
MID, Dirk Kuyt: 7/10
Insistent. He had a better game today and was the "supporting actor" behind the many Dutch opportunities.
MID, Wesley Sneijder: 8/10
His best match of the tournament. Participated in many plays and had the chance to score a couple times, but Keylor Navas blocked one of them and the other one ended up hitting the crossbar.
ATT, Arjen Robben: 9/10
As always, the best on the team. A true specialist in torturing defenders. He even helped out in the back and recovered balls to keep pushing the Oranje forward.
ATT, Robin van Persie: 8/10
He was very persistent and helped Robben cause a lot of trouble, but Navas was unbeatable as usual. He sent a ball to the post as well.
Substitutes:
ATT, Jeremain Lens: 6/10
Tried his best, but didn't perform as expected.
ATT, Klaas-Jan Huntelaar: 5/10
Came in very late and didn't participate very much.
GK, Tim Krul: 10/10
Went in before the final whistle and put his team in semi-finals. Enough said.