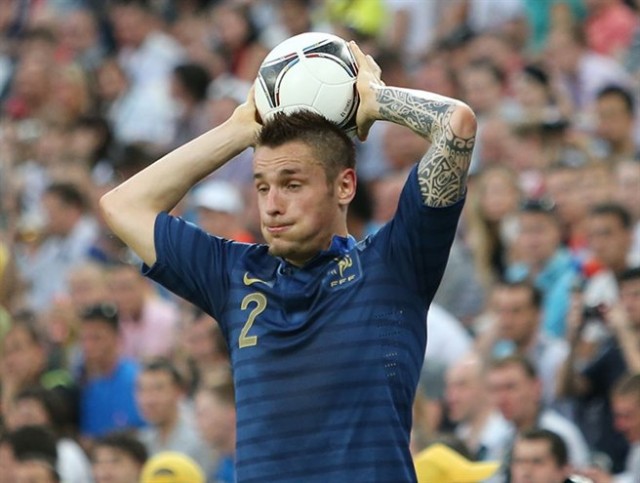 Bacary Sagna gave Arsenal 7 great years of his time at right back. At times considered as the best right-back in the Premiership during his best years, Sagna is now a Manchester City player, leaving uncertainties at right full-back. Prior to this now confirmed transfer,  Arsene Wenger would have to depend on Carl Jenkinson. He is a decent right-back, but he can make mistakes when facing talented wingers.
In order to fill the void left by Sagna, Wegner has decided to acquire another French full-back. According to the French site L'Equipe, Arsenal have sealed a £7.8 million deal with Newcastle United for Mathieu Debuchy.
The 28-year-old Frenchman is currently in Brazil waiting for a plane to go back home. During his time at the 2014 World Cup, Debuchy demonstrated that he is a great replacement for Sagna at the international level. He has enough pace to keep up with fastest players. When France has the ball, Debuchy delivers a width on the right flank to help spread the ball.
One of his deficiencies comes at the last third of the field when attacking. His crosses are not the most effective. In other words, he's no Dani Alves. Another problem is that he is 28. Now, I am not saying Debuchy is too old to play the sport; however, 28 is typically the age Wenger sells players. I am simply surprised that we are not getting an 18-year-old right-back "with potential."
Having said that, I welcome Debuchy with open arms. Not because his signing will improve the squad, simply because he would be a great cover for Sagna's departure. I give it a 6 out of 10 in terms of improving the squad. It is more of a replacement than an improvement. His signing allows Wenger to continue rotating his squad. Carl Jenkinson can get minutes in matches as Debuchy's back up and compete for a starting role.
Arsenal had a fantastic 2013-2014 season; they showed a lot of promise and hope for this upcoming season. Finally (and I mean FINALLY) winning the F.A. Cup, Arsenal look to take the Premier League and compete for a spot at the Champions League final. Mathieu Debuchy can enjoy his time wearing that historic Arsenal F.C. patch on top of his heart.
Debuchy would just need to pass the medical and work out final salary/bonus figures, it is extremely likely the deal will go through as expected.