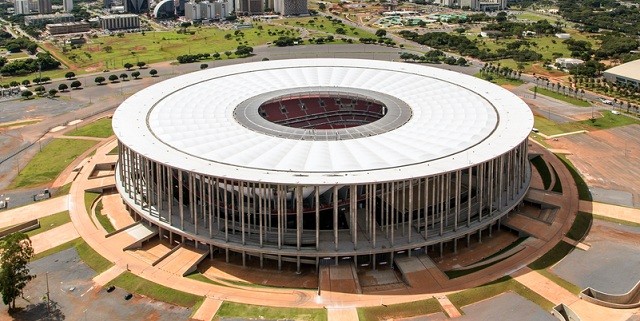 The Argentina vs Belgium (Belgica) match will be played on Saturday 5th July (9:00 AM Pacific) in Estadio Nacional de Brasilia. This match is going to be very important for Belgium because they haven't reached the semi finals since the World Cup in Mexico in 1986, where they lost to France by 4:2 after extra time.
Argentina has won every match they played on this World Cup, but despite their apparent efficiency, the quality of the football they are playing is lacking.
A team with players such as Messi, Mascherano, Aguero, Di Maria, Higuain has to play much better football and to strike fear into the hearts of their opponents. Managing a slow pace of football and conducting a very steady match can sometimes be a great recipe for a win, but not for this team.
Argentina has played some very dominant football on this World Cup, which was their strategy for the match against Switzerland in the round of 16, but they had to play extra time, and what led them to the quarter finals and the match against Belgium was one meager goal that they barely scored in the first place.
If they want to win this World Cup tournament, they should be better than that, and a team as strong as Argentina can offer a lot more. They still have enough time to show football fans that the great expectations and hopes laid in them weren't for nothing.
On the other hand, Belgium became much stronger over the course of the past 10 to 15 years. They have a lot of stars like Kompany, Fellaini, Lukaku, Verthongen, Hazard, and of course all of them are lead by expert Marc Wilmots, a former national football star.
Their strong defensive game, which resulted in conceding only 2 goals in 4 matches on this World Cup tournament, and their great attacking component (resting on the shoulders of one attacker, Romelu Lukaku) are giving their opponents nightmares.
The match against USA was very tough and very exciting, since USA also showed that they can play top class football, but at the end Belgium managed to emerge from that match as winners. They had almost complete dominance over USA but that didn't result in many goals scored. Nonetheless, Kevin de Bruyne and Romelu Lukaku scored 2 amazing goals and brought Belgium to their best achievement in 2 decades for sure.
Argentina vs Belgium Prediction
Argentineans are probably the team with the most quality and potential to win this World Cup tournament, but with a team like Belgium, anything is possible.
The Belgians, after decades of being underestimated, are perhaps better motivated than Argentina and we're sure that they will show very good skills and performance, and they will not show any fear to Argentines. Two completely different styles of playing – it will be very interesting to watch.
Argentina 1 – 2 Belgium
Argentina vs Belgium Television
The Argentina vs Belgium match will be televised in the USA on ESPN3 (stream) and Univision Deportes at 9:00 AM Pacific.