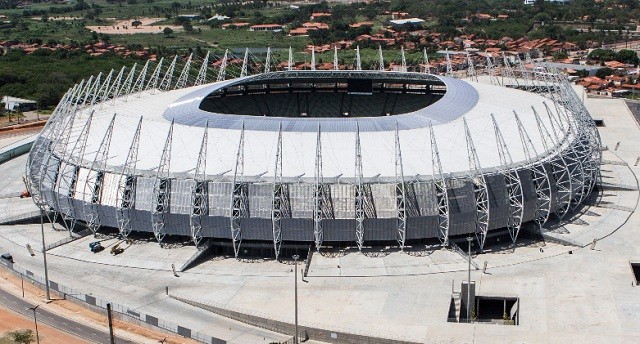 On Friday, July 4th, 2014, the Brazil (Brasil) vs Colombia match will take place at Estádio Castelão in Fortaleza (1:00 PM Pacific) on what will be the second match of the World Cup Quarter-Finals.
It has not been an easy tournament for Brazil so far. The Canarinha team has been experiencing some unexpected difficulties to overcome their opponents and their displays have left something to be desired as well.
After a very complicated match against Chile, which was only decided after the penalty shootout, Brazil will need to rally the troops and prepare themselves for the match against Colombia that might even be fairly more complicated.
During the group stage, Brazil revealed some uncommon inconsistency as they struggled to defeat Croatia on the tournament opener and weren't, by any means, better than Mexico on the second match either.
Luiz Felipe Scolari is a stubborn manager and he usually sticks to his initial ideas like glue, especially when it comes to tactics. Brazil are currently playing in a 4-2-2-2 style, an unusual variation of the classic 4-4-2 formation, with two men in front of the defence line, two other constantly lurking from the wings to the middle and with Neymar acting as a sort of trequartista behind the centre forward, a place usually occupied by Fred.
For the match against Los Cafeteros, it is not likely that Scolari will promote several changes in his team, though and since he will not be able to count on the contribution of his wingman, Luiz Gustavo, due to suspension, Paulinho or Ramires will certainly occupy his place alongside with Fernandinho at the centre of the pitch.
As for Colombia, who are currently enjoying a fantastic moment overall, the match against Brazil will represent their first stint at the World Cup Quarter-Finals. The current Colombian team is probably their best generation of footballers since the 1990's Italy World Cup, where the team managed to reach to Round of 16 stage led by the iconic number 10 Carlos Valderrama and the erratic goalkeeper Rene Higuita.
Twenty-four years later, the new Colombia's number 10 is AS Monaco's playmaker James Rodríguez. "El Bandido" is the team's new "maestro" and so far he has been flawlessly commanding his teammates one win after another and to some vintage overall displays.
On their last Round of 16 match, Colombia showed all their superiority once again as they easily pushed away an Uruguayan side "deprived" of their best man Luis Suárez.
For the match against Brazil, José Pékerman will certainly not make any relevant changes in his team and he will surely keep pushing his recent 4-4-1-1, a system he adopted in the beginning of the tournament to compensate for the absence of Radamel Falcao, who lost the World Cup due to injury.
Brazil vs Colombia Prediction
Although Brazil might be considered favourites for the next Friday's match, they will have to bear in mind that if they fail to manage to improve their game as a team, the individual talent of Neymar and his flock might not be enough to overcome a solid and very dangerous team such as Colombia. That being said, the most likely result will be a victory for Colombia.
Brazil 1 – 2 Colombia
Brazil vs Colombia TV Schedule
The Brazil vs Colombia match will be televised in the USA on ESPN3 (stream) and Univision Deportes at 1:00 PM Pacific.