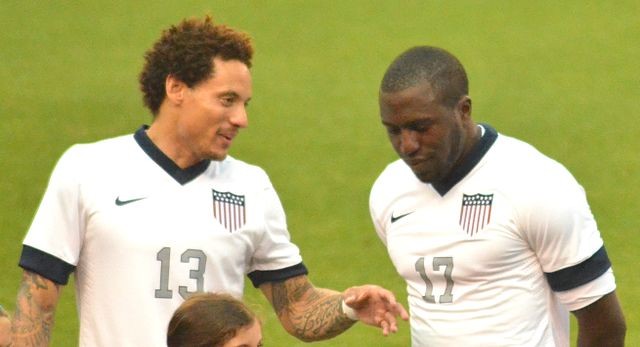 A day after the United States' heart-breaking loss to Belgium in the Round of 16, the internet has predictably exploded with lamentations that our Boys of Summer won't return to the world's biggest stage for another four years. Adding insult to injury, the greatest generation of U.S. soccer players, led by American badass (and eagle-riding) Clint Dempsey and newly-appointed Secretary of Defense Tim Howard (him of a World Cup record 16 saves), likely played their last significant minutes in an American uniform. At age 31, Dempsey will probably be too old and beat up, especially considering his rambunctious, run-through-a-brick-wall style that he has been known for throughout his career, to play in Russia in 2018. The same goes for Howard; though goalkeepers typically extend their careers later than outfield players (Kasey Keller started in the World Cup for the U.S. at age 37), Howard will be 39. There had been rumblings of his retirement from international play after South Africa in 2010, and it's hard to imagine he will put in four more years of grueling work, no matter how impressive yesterday's performance was.
But I'm not here to talk about Clint Dempsey or Tim Howard. Over the past decade, supporters of American soccer have become very familiar with their faces, along with fellow generational stars Landon Donovan and DeMarcus Beasley. Between the four, they have made thirteen World Cup appearances over twelve years. Instead, I'm here to write about one of the breakout stars of this American squad, who has likely seen the last of his own World Cup career: Jermaine Junior Jones.
The 2014 tournament in Brazil was Jones's first appearance on the big stage. He missed the 2010 World Cup due to injury, but his story is an interesting one. Jones is a product of the German youth system, playing several games for the U-21 side early in his career. After never having played for the senior team, and realizing the clock was ticking on his international career, Jones switched allegiances to the United States, setting an example for the next generation of dual-citizen American soccer players. Jones's absence from the 2010 squad went basically unnoticed; his physical presence would be missed, surely, but at that point in his career, Jones was mostly regarded as a walking red card with some panache.
His play in subsequent seasons only drew more criticism, as many followers of European club soccer began to refer to Jones as a dirty, lousy player who wasn't worth his trouble. For the most part, this characterization was true. Jones created much controversy after he intentionally stepped on Marco Reus's already injured left foot in a Bundesliga match in 2011, and was suspended eight weeks for the incident. He further cemented his reputation with reckless tackles at both the club and international level.
Over the next few years, Jones got better, using more discretion when going in for tackles, while still maintaining the aggressive edge to his play that makes him who he is. In fact, a few years ago, if you were to type Jermaine Jones into YouTube, you'd be just as likely to find stories about the disqualified American idol contestant of the same name as you would the German-American's impetuous antics. Perhaps someone spoke to Jones, or maybe he realized himself that he only had one realistic shot left at playing in a World Cup. Whatever the case may be, Jones more or less cut the frivolous, discipline-earning play out of his game, all but confirming his presence as an irreplaceable cog in Jurgen Klinsmann's hard-working machine of a squad.
If Michael Bradley is Il Generale, commanding the middle of the pitch with a legendary work rate and a deft passing touch, Jermaine Jones is the Raging Bull. He plays with the intensity of a man possessed, terrorizing opposing attackers with his fearless coverage of the defensive midfield and his steely death stare. With the inclusion of Kyle Beckerman into the starting lineup, Klinsmann liberated Jones, transforming him from a defensive stopper to a boisterous box-to-box player.
Jones was a revelation in the United States' first game against Ghana. He ran and romped his way all over the pitch, got stuck in on tackles, won headers, and even delivered a well-placed ball to set up Clint Dempsey's goal thirty seconds into the game. He followed with much of the same against Portugal, until the 64th minute, when he dropped this delectable frozen rope of a finish past the inert Beto and into the side netting. Jones's ensuing fist-pumping, hair-flopping celebration, in which he seemed as genuinely surprised as the rest of us (it was only his third international goal, to be fair), endeared him into American hearts forever.
Unfortunately, for Jermaine and for us, we've likely seen the last of the edgy and energetic midfielder in the World Cup. Jones is 32 years old, and, as a player who utilizes his superior strength and physical ability over more skilled players, his body at 36 probably won't be able to dish out the same intimidating punishment as he did in this tournament. And while the media will rightfully celebrate the passing of the torch from Dempsey and Howard and Beasley to the next (hopefully) great generation of American soccer players, this writer will commemorate the half-German for being so very American (beerz). On a team full of guys with multiple World Cup appearances, Jones's debut is really rather poetic. He may not have been the USMNT's biggest star; he's more of a blue supergiant who "supernova-ed" on the largest stage. Knowing Jones, this shouldn't come as a surprise. After all, it's the brightest stars that burn the fastest.