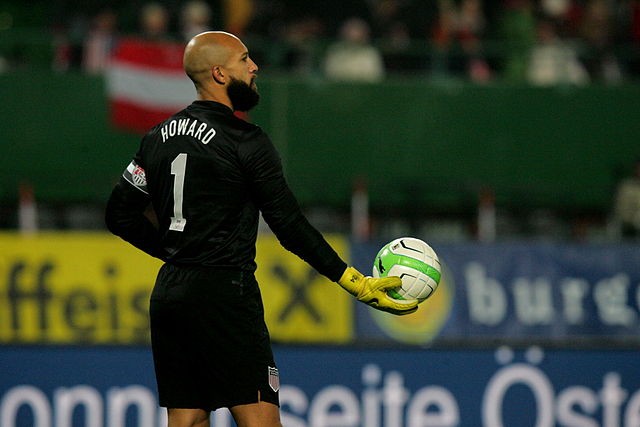 An ancient proverb once stated that "all experiences, even pleasant ones, must end". Unfortunately, the United States' road came to an abrupt halt against Belgium in the Round of 16. The Red, White, and Blue fell 2-1 at the hands of the Belgians, after an exciting 120 minutes of play, that didn't see a goal until the third minute of extra time.
As an American, all I can say is that I am truly proud of my country and how they performed at this tournament. On football's biggest stage, the team faced numerous circumstances where it would've been easy to throw in the towel, including the loss of Jozy Altidore and simply the squads that they were pinned up against. The US did just the opposite though, and it showed against Belgium.
Goalkeeper Tim Howard protected his net better than I've ever seen out of a shot stopper in the World Cup. The New Jersey native made 16 saves, a World Cup record. He literally did everything possible to keep the United States in the match and really deserved a victory. Howard will be 39 by the time 2018 rolls around and this could very well have been his last match for the Yanks, but if it was then he will forever be remembered for what he did on that Salvador pitch.
Match Ratings (0-10)
GK Tim Howard- 9.5
I don't need to say much more after the above paragraph dedicated to the Everton man, but I will. Absolutely phenomenal job. Only reason he doesn't get a 10 is because two goals did find their way in. Easily the best performance by a goalie, ever at a World Cup. Well done Timmy.
LB DeMarcus Beasley- 7
At 32 years of age, this guy was really one of the great stories of the US squad. He performed at a very high level, going up against some incredible talent, and was still one of the fastest players on the field. Beasley was shaky at times, but still gave 110 percent effort and was a real leader in the back.
CB Matt Besler- 7
Sporting Kansas City has two stars coming back to them after the World Cup and manager Peter Vermes will be ecstatic to get both back. Besler, in his first World Cup, performed better than anyone could've imagined. He was disciplined and led a defense that was the clear strength of the United States throughout.
CB Omar Gonzalez- 8
Took over for Geoff Cameron at center back against Germany and did such a wonderful job that he kept it against Belgium. Tremendous job throwing his body in the way of anything and making smart challenges.
RB Fabian Johnson- 6
Unfortunate injury for the German-American. He was one of the best players of the pitch for the US and his could've certainly altered the match with his strong runs down the right wing. His presence was definitely missed and Yedlin was forced into the emergency role.
CM Geoff Cameron- 6
Solid job in switching to the midfield. Played with a yellow card from the 18th minute on and put in good work for Kyle Beckerman, who mysteriously sat the bench. Rebounded well from his benching against Germany.
CM Jermaine Jones- 7
Best player on the field for the US throughout the tournament, excluding Tim Howard. His physical presence was felt and even played through a broken nose the last two matches. Also, scored one of the goals of the tournament against Portugal on a firecracker from about 25 yards out. Not too shabby for his first World Cup at the age of 32.
LM Alejandro Bedoya- 5
Provided very little for me in the offensive half, but did defend well. The US didn't have a true left wing and Bedoya did a solid job in filling the void.
CAM Michael Bradley- 7
Played his best game against Belgium. We saw the creativity that got so many US fans excited. Held the ball nicely and distribution was on point for the most part. His chip into the path of Julian Green left the Americans with an extraordinary parting gift. We'll see more of him in the future with the national side.
RM Graham Zusi- 6
The other Sporting KC player that I referred to earlier had himself a solid tournament as well. Defending was superb and created several dangerous chances in the attack. Certainly didn't see all of his capabilities, but when called upon did a wonderful job.
ST Clint Dempsey- 6
The captain had a rough tournament and just like Howard it is difficult to know if he will be back when the US go to Russia in 2018. Yes, I said when and not if. Just like Jones, Dempsey played with a broken nose for quite some time. He played out of his comfort zone to fill in for the missing Jozy Altidore, which was a huge loss for the US. The type of effort that Clint put in won't show up on the stat sheets, but I have given him proper recognition.
Substitutes
DeAndre Yedlin- 7 
Was out of position on the second goal, but did a great job filling in for the injured Fabian Johnson. Seattle Sounders may not be able to keep this man until 2018 because he is becoming a rising star. His pace is unquestioned, and if he continues to develop as a left back then we may have a talent that can play for at least two more World Cups.
Chris Wondolowski- 5
Did a nice job in attempting to see out the Portugal game, but was called into action against Belgium under difficult circumstances. Had a chance to score the winner before the end of regulation. Despite the offsides call, he should've buried it. And the ball into him wasn't offsides after further review.
Julian Green- 7
To be 19 years old and have scored as phenomenal a goal as Green has done speaks volume. He will be back next World Cup for sure, and with four years of experience will be a dangerous threat for opposition.
Looking Forward to 2018
The United States have a great deal to look forward to by the time 2018 rolls around. Green, Yedlin, and John Brooks will be household names by then, with some veterans thrown into the mix. Jurgen Klinsmann has this team on the right path, and it is hard to believe that the US won't be better in the World Cup that follows.
It may be a sad day for American fans, but there is nothing to be sad about after the performances displayed this past month. To make it further than traditional powers such as Spain, England, and Italy just sweetens things even more. Many "fans" will go away for four years and come back around once 2018 arrives, but until then, the true soccer fans such as myself will be anxiously waiting to see how the Americans better themselves.
Highlights: You can view the highlights at the official FIFA website here.