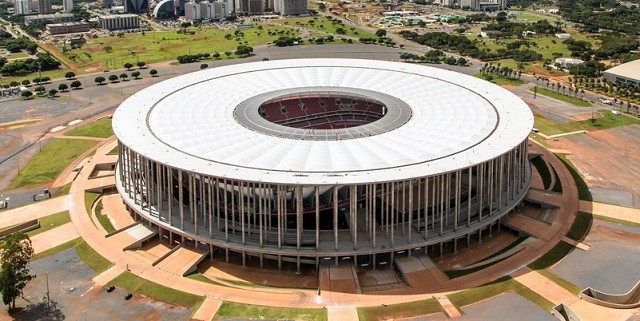 The France (Francia) vs Nigeria World Cup round of 16 match will be played on Monday, 30th June (09:00 AM Pacific Time) at the Estadio Nacional de Brasilia.
The 21st edition of the World Cup has so far offered many surprises, such as the success of the Nigerian national team. They started this tournament with uninspired performance, which resulted with 0:0 score in the first match against Iran. Many chances were missed and many wrong moves were made.
The second match with Bosnia & Herzegovina was much better and resulted in Nigeria winning by 1:0 and it turned out that this win was crucial for them to go through to the next phase.
Even though they lost from Argentina by 3:2, they showed a great effort and gave us all a good reason why we should change our mind about having this country on World Cup Finals, and Musa, who scored 2 great goals, should receive special credits for that.
A team with players like Emenike, Musa, Moses and Oduamadi is a very good team and should pose a threat even to the strongest teams in the world such as France in this occasion. After all, they won the African Cup of Nations.
As for France, they are for sure one of the main contestants favored to win this World Cup. No one expected results to be this good under Didier Deschamp's management, especially with so many fresh players, longing for success and for proving themselves.
France has a rich history of World Cup matches, in 1998 they won their first World Cup title, and unfortunately they didn't manage to repeat that in Germany 8 years ago. This year, they have a great team and great chance to win this title back after 16 years.
They started this championship by winning against Honduras with a score of 3:0. But they didn't stop there! They crushed Switzerland in the second match of the group stage by 5:2. After that win, everything was pretty much clear and the result with Ecuador was pretty much irrelevant to them.
Didier Deschamp made a perfect change in this team and made every opponent of theirs sweat bullets. Great tactics, a perfect performance on the field, stunning engagement in every action – there is no better recipe for winning. This match should be tough for them to win, but France is a big favorite for sure. All they have to do is to be careful and follow every single opponent's action to details.
France vs Nigeria Prediction
Nigeria made a very big success by struggling through to the round of 16 and they will try to use every trick and every chance they have to get themselves a goal. We may expect aggressive attacking attempts from Nigeria, but this match should be dominated by France if they keep up with great performances.
Considering all the facts, the most probable result is a victory for France.
France 3 – 1 Nigeria
France vs Nigeria Television
The France vs Nigeria match will be televised in the USA on ESPN3 (stream) and Univision Deportes at 9:00 AM Pacific.