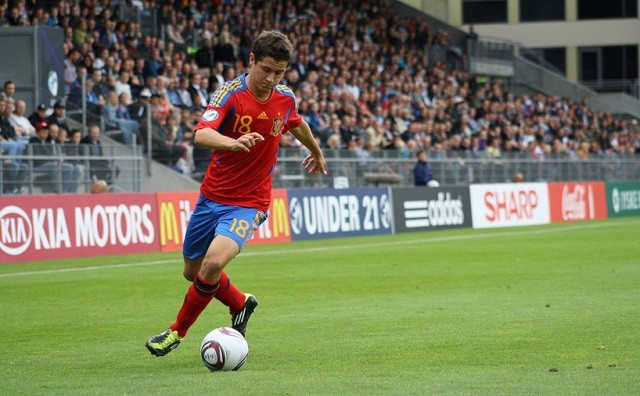 As the World Cup slowly goes into the knock-out phase, Premier League clubs are starting to buy players for the upcoming season. One of the clubs that is going to change their look in the 2014/15 season is Manchester United.
With new coach, Loius van Gaal, in charge, fans are expecting many new faces in the squad and the first signing of this summer is midfielder Ander Herrera, former player of Zaragoza and Athletic Bilbao. The talented player will be a great boost for the midfield of the Red Devils, which was one of the weakest parts of the team under former manager Moyes.
Veteran Carrick, newcomer Fellaini and young Cleverly didn't manage to hold the season-long-burden on their shoulders and new manager wants better option in the roster. Herrera is both young (24 years-old) and talented player, who is standard in Athletic Bilbao for two seasons.
During his time in Biscay, he featured in 89 games, scoring 6 goals. In his first season (2011/12), he helped the club reach two finals – Spanish Copa del Rey and UEFA Europa League. Sadly for him and Bilbao, both games ended in defeat. In the Cup, Barcelona triumphed while in Europa League, Falcao led Atletico Madrid to the silverware.
In the Manchester, Herrera will probably have to jump in the shoes of legendary Paul Scholes and be support for Carrick.
We can't help but wonder – what forced him to move from club where he has guaranteed place in the starting eleven and that will play Champions League playoff this summer to Manchester United? There are two important things: 1) Van Gaal doesn't hesitate to give chance to youngsters, so Ander will probably become starter in his new club; 2) he gets chance to become part of the new project which has goal to return Manchester United to the paths of old glory.
The player himself announced on his twitter account that he is grateful for support he got from the fans-
Thanks to all Manchester United fans for your kind welcome messages/Gracias a todos los fans del United porvuestrosmensajes de bienvenida

— Ander Herrera (@anderherrera8) June 27, 2014
Also, new teammates spoke with the excitement about his arrival to the Old Trafford. De Gea and Mata shared their thoughts on twitter about Herrera's arrival.
Welcome my friend @ManUtd: Ander Herrera is a Red! #mufc pic.twitter.com/VFcFeerf6q

— David De Gea (@D_DeGea) June 26, 2014
"@ManUtd: Ander Herrera is a Red! #mufc pic.twitter.com/g96yiVzSFY" Bienvenido crack! Welcome !!

— Juan Mata García (@juanmata8) June 26, 2014