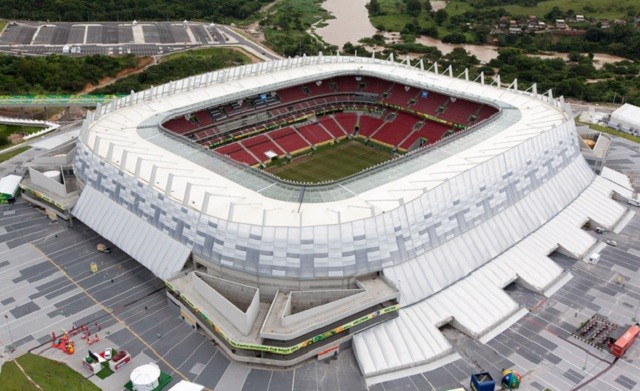 Update: Costa Rica will move on to the quarterfinals after defeating Greece 5-3 in penalties. The match ended regular time 1-1, after Greece scored an injury time goal that sent the match to extra time. Costa Rica played down to 10 men for the last 20 minutes of the match and all of extra time, and are able to move on thanks to penalty kicks. They will face Netherlands on July 5.
The Costa Rica vs Greece (Grecia) World Cup knockout match, "octavos de final" will be played Sunday, June 29 (1:00 PM Pacific), at the Arena Pernambuco in Recife. This duel is totally unexpected in this phase of the tournament. For the both sides, this is the greatest success in the World Cup, and one of them will get to go a step further.
Greece and Costa Rica never played against each other. Before the beginning of the tournament, both sides were huge underdogs, with 360:1 (Greece) and 5000:1 (Costa Rica) odds to win the World Cup. Having that in mind, round of 16 is a huge success for both of these teams, but since they are playing an opponent who they expect to win against, they will be very motivated and aggressive in the desire to go through.
Greece has somehow slipped through their group, with a late penalty against Ivory Coast. But, they are considered a copy of Italy, which can also play badly, but when they reach the knockout phase of the tournament, they can prove to be an unpleasant surprise to even the best of the national teams.
Costa Rica, on the other hand, is the biggest surprise of the tournament. 'Los Ticos' beat Uruguay, Italy, and drew against England in the 'Group of Death', progressing to the Last 16 phase without a single defeat. The key to such great results of Costa Rica lies in several great individual players well combined in a team. Let's start with the keeper – Keylor Navas had an amazing season for La Liga's side Levante. No other keeper in the world had more saves than him (160), with 80.4% saved shots on target, so don't be surprised if he switches Levante for a bigger club in the summer transfer window. Bryan Ruiz, Joel Campbell and Marco Ureña are massive threats for Greece's goalkeeper, and are expected to continue with great offensive displays.
Costa Rica vs Greece Prediction
Since this is the knockout phase, it is expected that both teams will play very carefully at the beginning of the match. Costa Ricans will probably be a little more attack-oriented than the Greeks, but if they don't score a goal in the first half, Greeks are likely to become progressively more dangerous and are expected to be dominant in the end of the match, because of their "Spartan" mentality. Considering all the facts, it is expected that Costa Rica will win 1:0.
Costa Rica has been absolutely astounding, getting through a group that had three World Cup champions, going undefeated, and, most importantly, playing some great football. It will be tight against Greece, but Costa Rica will win.
Costa Rica vs Greece Television
The Costa Rica vs Greece match will be televised on ESPN and Univision on Sunday at 1:00 PM Pacific.