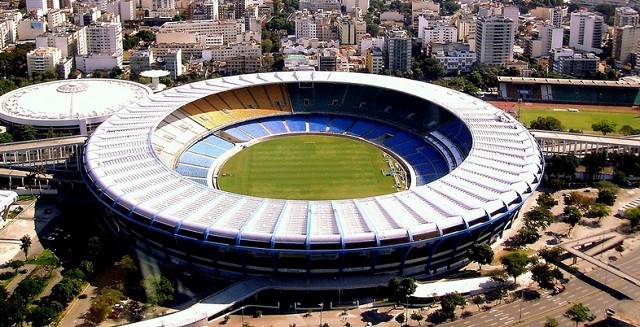 After two goals from James Rodríguez, Colombia stormed past a Uruguay side bereft of Luis Suárez and sealed their place in the quarterfinals, which is further than they have ever progressed. Los Cafeteros will face host nation Brazil on July 4th in Fortaleza, and after such a dominant display at the Maracanã today, few would be so bold as to bet against them progressing even further.
Player Ratings
David Ospina – 8
Had relatively little to do in the first half, but didn't put a foot wrong when handling Uruguay's attacking forays in the second half. Colombia's number one did particularly well to prevent Maxi Pereira from close range in the 78th minute. Despite Uruguay bossing possession in the last fifteen minutes, they never looked likely to score with Ospina in goal.
Juan Camilo Zúñiga – 7
One of Colombia's most involved players, Zúñiga got forward well to support the attack down the righthand side and popped up with a couple of shots on goal.
Cristián Zapata – 7
Zapata had a 97% passing accuracy and kept calm at the back. Partnered well with Yepes, keeping Cavani and Forlán quiet.
Mario Yepes – 8
In a battle of the dinosaurs, the 38-year-old Yepes soundly came out on top against 35-year-old Diego Forlán. Winning 100% of his aerial battles and making 5 tackles, Yepes silenced Uruguay's toothless attack from the start.
Pablo Armero – 7
Going forward, Armero was a menace. Linking up well with Cuadrado ahead of him, he also provided the initial ball that led to their second goal. In defense, he was slightly less assured, committing four fouls and earning a yellow card.
Juan Cuadrado – 8
Cuadrado proved a danger to Uruguay's defense throughout the match before before substituted in the 81st minute. He won several free kicks on the wing and also headed down Armero's cross at the far post which set up Rodríguez for his second goal.
Abel Aguilar – 7
Aguilar did well to assist Rodríguez's first goal and maintained possession in midfield. His high pass accuracy and tough tackling today won't show up on the highlight reels, but were incredibly important nonetheless. Throughout this World Cup, his composure and consistency have been key to Colombia's success.
Carlos Sánchez – 6
Another understated midfielder, Sánchez did the dirty work in Colombia's midfield.  He made multiple interceptions that prevented Uruguay from building any substantial attacks.
James Rodríguez – 9
Man of the match and perhaps the best player in the tournament. His first goal, a sublime volley after controlling the ball with his chest, saw him become the first player to score in his first four World Cup appearances since Teófilo Cubillas in 1970. And after scoring his second, he took the lead as the leading scorer in this World Cup. Rodríguez is becoming the star of this tournament, and the 22-year-old will certainly be their biggest threat against Brazil.
Teófilo Gutiérrez – 5
Before being substituted after 68 minutes, Gutiérrez put in an honest shift, but largely failed to make himself a threat. Decent linkup play with Martinez was his biggest highlight.
Jackson Martinez – 6
Couldn't match his goalscoring form that we saw against Japan, but linked up well with the midfield. Facing a five man Uruguayan defense is never easy for a striker, so he can be forgiven for not making an impact against Godín and co.
Substitutes 
Alexander Mejía – 5
Came on to replace Gutiérrez and provided an extra body in midfield with 20 minutes to go. As can be expected, he spent most of his time on the pitch aiding in defense.
Fredy Guarín and Adrián Ramos – No Rating
Each came on with less than ten minutes remaining and secured a victory for Coach José Pékerman.
Final Score: Colombia 2-0 Uruguay
Next Match: Quarterfinals Brazil vs Colombia on July 4th.
Highlights: You can view all the goals at Fifa.com here.