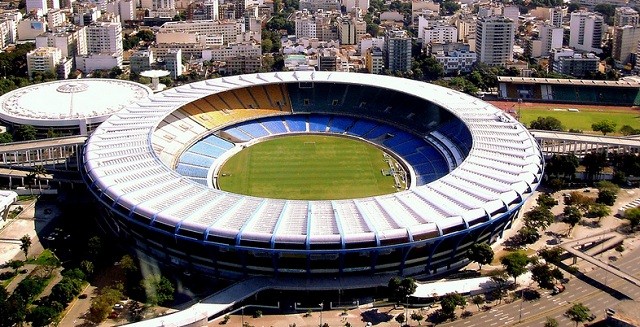 On Saturday, 28th June 2014 (1:00 PM Pacific), Colombia vs Uruguay will be held at the beautiful Estádio Maracanã in Rio de Janeiro in what will be the second Round of 16 match of the day.
Colombia have been, so far, one of the most impressive teams of the tournament and they have expressed their dominance during the group stage.
After smashing Greece on their World Cup's opening match, Colombia experienced some more difficulties in overcoming Ivory Coast, who were in fact the most complicated team the South American team faced so far.
On their last group match last Tuesday, Colombia reduced Japan to dust thanks to a vintage performance from their centre forward Jackson Martínez, who scored two of the four Colombian goals.
After his arrival at the team, José Pékerman refurbished Colombia from top to bottom and quickly transformed them into one of the best team from South America. Pékerman implemented a 4-4-2 attacking style into his team with AS Monaco's playmaker James Rodríguez lurking behind the centre forward duo usually formed by Falcao and Teofilo Gutierrez.
With Falcao's injury, Pékerman has adopted a somehow more conservative approach during the World Cup, as he transformed his usual 4-4-2 into a 4-4-1-1 with James Rodríguez working as an old school number ten behind the team's lone ranger up in the front.
For the match against Uruguay, it will interesting to see how will the Colombian defence line will stand against the Uruguayan fast and usually deadly counter-attacks.
As for Uruguay, the match against their South American neighbours of Colombia will pose a good test to the team that is once again deprived from their most influential player, Luis Suárez.
After a slow and bumpy start against Costa Rica, which they lost 3-1, Uruguay counted on the return of Liverpool's versatile striker to inflict the second defeat of the tournament to England, for their second match, thus sending the Three Lions back home.
On the team's last group match, Uruguay managed to overcome Italy and grabbed the second place of the group behind Costa Rica, thus granting a place on the Round of 16.
For the match against Colombia, Óscar Tabárez, as mentioned earlier, will not be able to rely on the contribution of Luis Suárez, who is up against a long ban from all competitions because of another biting incident on the match against Italy; thus, it will be interesting to see how Uruguay will react to the absence of their most prolific goalscorer.
Possible Line-ups
Colombia (4-4-1-1) – Ospina – Zúñiga – Perea – Yepes – Armero – Aguilar – Sanchez – Cuadrado – Ibarbo – J. Rodríguez – J. Martínez
Uruguay (4-4-2) – Muslera – Maxi Pereira – Lugano – Godín – Cáceres – Arévalo – Gargano – C. Rodríguez – Lodero – Forlan – Cavani
Colombia vs Uruguay Prediction
Because of their fantastic recent streak, Colombia are favourites to win the match, although the absence from Luis Suárez can backfire at them as it might help Uruguay to rally the troops in order to compensate for their "lost". This being said, the most likely outcome is a victory for Colombia.
Colombia 2 – 0 Uruguay
Colombia vs Uruguay Television
The Colombia vs Uruguay match will be televised in the USA on ESPN3 (stream) and Univision Deportes at 1:00 PM Pacific.