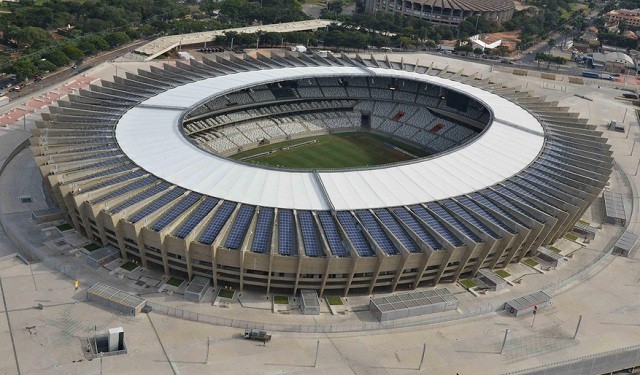 On Saturday, 28th June 2014 (9:00 AM Pacific), Brazil (Brasil) vs Chile will take place at Estádio Mineirão in Belo Horizonte, in the first match of the Round of 16 stage.
It is fair to say that Brazil are one of the top contenders to win the tournament not only because they are playing at home but also because they have a fantastic set of players. Nevertheless, it is also fair to say that the Brazilian team are far from their best and the matches against Croatia and Mexico are a blatant proof of that.
Last Monday, the Canarinha smashed an adrift Cameroonian side 4-1 thus, cementing their position at the top of the group.
Led by Neymar, Brazil managed to easily control the match after a somewhat slow start that allowed Joel Matip to level the score for the African team on the 26' minute of the first-half. From that moment onwards, the home side pulled rank and embarked on an easy win against a team that will certainly want to forget their World Cup campaign as soon as possible.
For the match against Chile, the Brazilian manager Scolari, who is not an avid supporter of implementing big changes in his team, will probably remain faithful to the style he implemented into Brazil a few months after his arrival, a 4-2-2-2 uncharacteristic approach, that is in fact nothing more than a slight variation of the classic 4-4-2.
With all his players available for the match, it will be interesting to see if Scolari will pick Hulk or if he will adopt a more conservative approach by bringing in Ramires instead.
As for Chile, the match against the Brazilians will certainly pose a good opportunity for them to continue to show all their quality. The Chilean team was defeated by the "new" clockwork orange last Monday, but such defeat is not enough to cast a shadow over their good campaign at the tournament so far.
Jorge Sampaoli, the mastermind behind Chile's new style, is managing to take the South American to a completely different level, something that Marcelo Bielsa also managed to do in the recent past. A confessed admirer of Bielsa, Jorge Sampaoli implemented a demanding 3-4-3 tactical style at the Chilean team and he is managing to get away with it.
Chile defeated Australia on their first World Cup match by 3-1, but it was on the second match against Spain that they proved all their worth by snatching a fantastic 2-0 win.
Possible Line-ups
Brazil (4-2-2-2) – J. César – Dani Alves – David Luiz – Thiago Silva – Marcelo – Luiz Gustavo – Paulinho – Ramires – Neymar – Oscar – Fred
Chile (3-4-3) – Bravo – Jara – Medel  – Isla – Vidal – Díaz – Mena – Aránguiz – Silva – Sánchez – Vargas
Brazil vs Chile Prediction
Although Brazil might be considered favourites due to their glorious past and because they are playing at home, Chile will certainly have a word to say on next Saturday's match. This being said, the most likely outcome is a victory for Chile.
Brazil 1 – 2 Chile
Brazil vs Chile Television
The Brazil vs Chile match will be televised in the USA on ESPN3 (stream) and Univision Deportes at 9:00 AM Pacific.