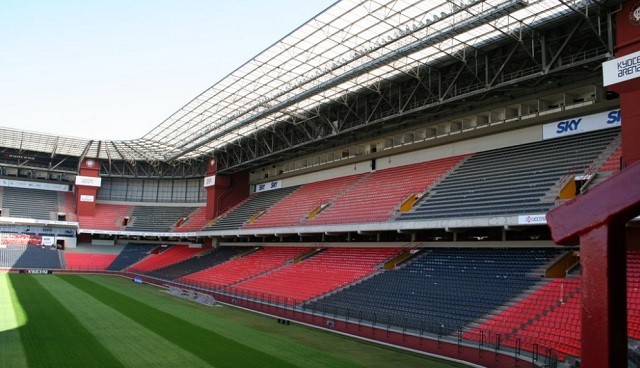 The Algeria vs Russia match will be played this Thursday, June 26, (1:00 PM Pacific) at the Estádio Joaquim Américo Guimarães, Curitiba.
Russia and Algeria will battle for the remaining spot in the last 16. Algeria, somewhat surprisingly, won the match against South Korea, so they are in a better position prior to this match, since Russia only drew with them.
Algeria will need only a draw here to qualify for the knockout phase, and Russia will have to attack and seek for a win.
Russia and Algeria never played against each other, but Algeria played with USSR in 1964, and the match ended as a 2:2 draw. It is interesting that after the SSSR fell apart, Russia never reached the second phase of the World Cup tournament, same as Algeria, so the winner of this clash will make it into history just by doing that.
In this tournament we saw that Russia doesn't have individual quality like they had few years ago, with Arshavin, Pogrebnyak, Pavlyuchenko. They are now veterans, and Capello opted for a younger, more compact team here in Brazil. Russia conceded a late goal against Belguim, and lost that match. In the first round, their goalkeeper Akinfeev conceded a blooper goal and Russia won only a point from that clash.
It seems that Capello put together great tactics against both of their opponents, but Russia wasn't lucky enough to score more points than they did. Capello is a very experienced coach, he is probably the coach of the highest profile in this World Cup, and he is the biggest Russian advantage over Algerians.
Before this match, Russia was defending most of the time, they didn't show much skill in front of the goal and they clearly don't have attacking mindset. Therefore, it will be a real challenge to them to win this match.
Before the tournament, Algeria was the biggest outsider in this group. Most of the people saw European teams through; some would opt for Koreans instead of Russians, but very few mentioned Algeria as a contender. They played one of the best matches in this World Cup so far against Korea, scored four goals, and made a clear statement – they want to get to the second phase, and they are able to overcome all the obstacles on their way!
Algeria vs Russia Prediction
This match will probably be played very carefully from both sides in the first half, and Russia will probably push forward in the last quarter of the match. Algeria could defend since they need only a draw, but they will seek every opportunity to score from counter attacks.
However, Russia is the team which can boast of more experience, and it is likely that they will win this match. Considering all the facts, we can expect that Russia will win.
Algeria 0 – 1 Russia
Algeria vs Russia Television
The Algeria vs Russia match will be televised in the USA on ESPN3 (stream) and Univision Deportes at 1:00 PM Pacific.