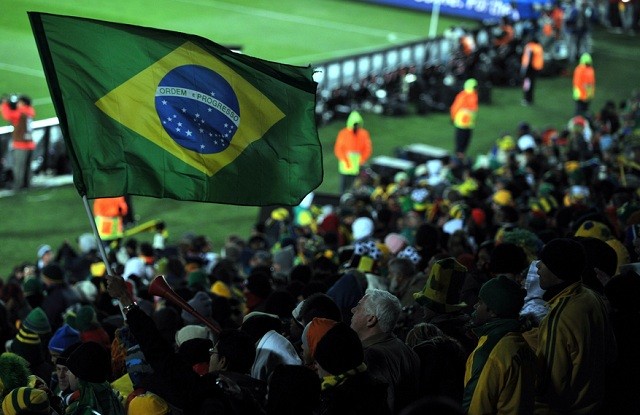 The Brazilians didn't have the greatest start to the 2014 World Cup. I know the Selecao won their first match by a score of 3-1, but there were some questionable calls made in that game and Scolari's team just didn't look all that great, they weren't the same squad we saw one summer ago and throughout their recent friendlies. One could say that they were lucky to play against a Croatia side without Mario Mandzukic and a Cameroon team that was missing Alex Song. At the end of the day Brazil did win Group and will move onto the round of 16 against a feisty Chilean national side. On a quick recap from Brazil's group, let's take a look at some of the positives and negatives we saw from the host country.
Positives 
One thing that we learned from watching Scolari's Selecao squad is that Neymar is putting on for his country. There isn't much else going for them, because it seems as though the entire team is relying on Neymar to show up and score goals. Oscar has had a couple of brilliant moments here and there but the rest of the offense and midfield hasn't been showing up. I think every Brazilian except Luis Felipe Scolari thinks that Fernandinho should be playing over Paulinho. The second he entered the game against Cameroon the Brazilians started playing more of that Joga Bonita style. It seemed like the defenders had more confidence in the midfield play because of the Manchester City man. He's better than Paulinho and I think that he's showed that he deserves to start for the Selecao. Other positives for Scolari's side is that Thiago Silva and David Luiz have been playing well on the defensive side so hopefully that continues to remain true.
Negatives
Where do I start. The midfield can't hold the ball and there's no threat up top except for Neymar. Fred isn't the same as he was last summer. Oscar at times seems timid in the middle of the field and is being pushed off of the ball way too often. Hulk's right foot is imaginary and Dani Alves thinks he's playing right wing instead of staying back on defense. He would actually produce more opportunities than Hulk is at the moment so maybe but him up there and start Maicon at right back? Or just start Bernard or Willian on the wings and play a false 9 with Neymar in the middle. I wouldn't always recommend changing too much of the starting line-up but something needs to happen. The country and residents of Brazil are getting worried that the Selecao is going to have another quarter-final exit if Scolari doesn't switch up the starting eleven. Like I mentioned earlier, Paulinho has played pretty poorly, so why not start Fernandinho who scored in his first ever World Cup game? It seems pretty obvious to a lot of people but let's see what the coach does. Overall they were pretty lucky to have a semi-easy group stage and hopefully they don't overlook the Chilean side that beat Spain earlier this tournament.