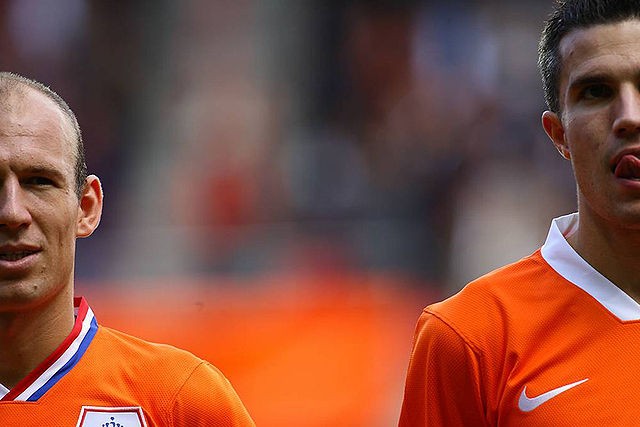 Considering that both teams were already qualified and couldn't know if they would play Brazil or not in the next round, the game definitely lacked the intensity of their previous matches. However, the Dutch did just enough with the low ball possession they had to score two crucial goals that means avoiding Brazil. Let's take a look at how the group champions performed today:
GK, Jasper Cillesen: 7/10
He barely had to intervene once, and he blocked it. Apart from that, he was barely threatened by La Roja.
DEF, Daryl Janmaat: 6/10
Had the chance to go up a few times, but didn't cause any serious trouble. He did enough in defense.
DEF, Ron Vlaar: 6.5/10
Sánchez and Vargas didn't cause their usual trouble, he did what he had to do and nothing more.
DEF, Stefan de Vrij: 6.5/10
Helped his partner Vlaar keep trouble away from Cillesen, but he didn't have to try extremely hard. He had a chance to score in the first half on a set piece.
DEF, Daley Blind: 6/10
His game against Spain was brilliant and has since toned it down, he was correct in defense and not very threatening in attack. He earned a yellow card.
MID, Georginio Wijnaldum: 6/10
Since the Dutch lost the ball possession, he didn't have the chance to be creative and intervene in the game.
MID, Nigel de Jong: 7/10
He was one of the few players that helped earned the very low ball possession from the Dutch. He was quick when recovering the ball and pass it to the right players.
MID, Dirk Kuyt: 5/10
Not his best day, it's still uncertain why van Gaal chose to put him in. He didn't do anything for the Oranje.
MID, Wesley Sneijder: 5.5/10
This hasn't been his best tournament, his form is a bit low and it's been up to Robben and van Persie to lead the way. He had a free kick opportunity, but Bravo was in the right place.
ATT, Arjen Robben: 8/10
Had a good first half, he could've scored, but wasn't very accurate. He was extremely fast and a complete nightmare when he led the team to Bravo's area. By far the best player on the team and he topped his excellent group stage with an assist before the final whistle.
ATT, Jeremain Lens: 5.5/10
He wasted his first starting role in the tournament. The lack of possession really affected him and forbid him from doing anything.
Substitutes:
ATT, Memphis Depay: 7/10
He finalized a great counterattack by Robben and scored the 2nd and final goal. Apart from that, he barely had time to be influential. He has done what he's supposed to in the last two games, scoring two goals. Very impressive for a sub.
MID, Leroy Fer: 7/10
Came in near the end of the game and the first ball he touched and he put it in the back of the net. He did more than what he was asked to do.
DEF, Terence Kongolo: N/A
He didn't have time to do anything.