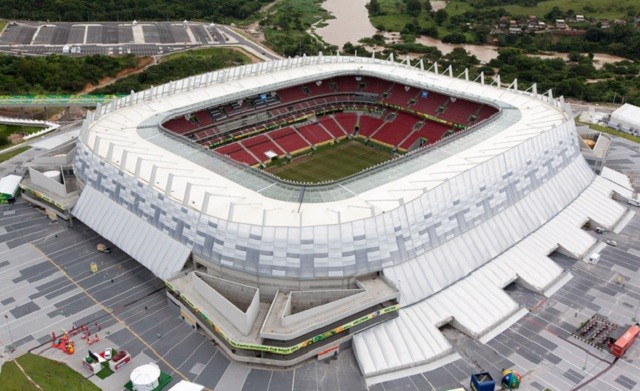 The Mexico vs Croatia (Croacia) World Cup match will take place this Monday, June 23, 2014 (1:00 PM Pacific) at the Arena Pernambuco in Recife. So far, the World Cup has brought a lot of surprises and very entertaining games. Many expectations and predictions about this World Cup have been proven wrong, due to the unpredictability of a lot of these games. From Ghana's 2-2 tie with Germany, to Costa Rica currently being 1st place in Group D, the World Cup has shocked fans around the globe.
UPDATE: Mexico defeated Croatia 3-1 and will play Netherlands in the Round of 16 on Sunday. You can view the highlights on the official FIFA website here.
The quickly approaching match between Mexico and Croatia will most likely be another intense match. Croatia needs to win to go through to the next stage and Mexico would qualify with as little as a tie. Both teams are desperate to pass on to the knockout rounds, but only one will be able to in the end.
Croatia Team News
After a 4-0 thrashing against Cameroon, Croatia will try to use its momentum to defeat El Tri. Croatia's dominant win against Cameroon showed that they are still very capable of qualifying for the knockout rounds, even if it means having to beat a strong Mexico team. In the win against Cameroon, returning Bayern star Mario Mandzukic was awarded "Man of the Match" due to his great performance. Manduzkic's two goals in that match helped ensure the Croatians victory over Cameroon. Mario Mandzukic's return to the Croatian squad will be important because he provides a formidable presence inside the box and on set pieces.
Another vital player for Croatia will be Luka Modric, who has been living to his expectations in the World Cup. Modric is one of Croatia's key players who is capable of opening the field and providing goal scoring opportunities. With Mandzukic and Modric, El Tri willl need to be on their toes when defending.
Mexico Team News
The recent stalemate between Mexico and Brazil proved to be one of those entertaining matches of the World Cup. Neither team could find the net in Fortaleza, Brazil, but the fans were nonetheless at the edge of their seats. The most notable performance from that game came from none other than Mexican goalkeeper Guillermo "Memo" Ochoa. He managed to have seven saves, with three of those being world class saves. Although the game wasn't really one sided for the entirety of the match, Brazil was constantly pressuring the Mexican defense.
In the past year or so, Mexico's defense had been one of their biggest problems. There were constant changes occurring in the backline and only a few spots were reserved for some players. Recently, Rafael Marquez has captained Mexico's defense and it didn't fall apart against Brazil. The turnaround in the defense has helped Mexico acquire four points so far in the World Cup. With a great performance against Brazil, Ochoa and Mexico will look forward to defeating or tying with Croatia to reach the knockout round of the World Cup. Will they manage to hold up against Mandzukic and the fellow Croatians?
Mexico vs Croatia Prediction
Once again, we can expect that the upcoming match between Mexico and Croatia will be exciting. Both teams will need to go all out in their final match from the group stages of the World Cup. Croatia will be desperately looking for a win and Mexico will be aiming to hold on and at least tie.
With what may be home-field advantage for Mexico, due to the massive amount of Mexican supporters that will be present throughout the stadium, El Tri will edge out a close win against Croatia 2-1. Guillermo Ochoa will look forward to defending his goal net and save Mexico from elimination.
Mexico vs Croatia TV Schedule
The Mexico vs Croatia game will be televised on ESPN, Univision and ESPN Deportes at 1:00 PM Pacific Time.