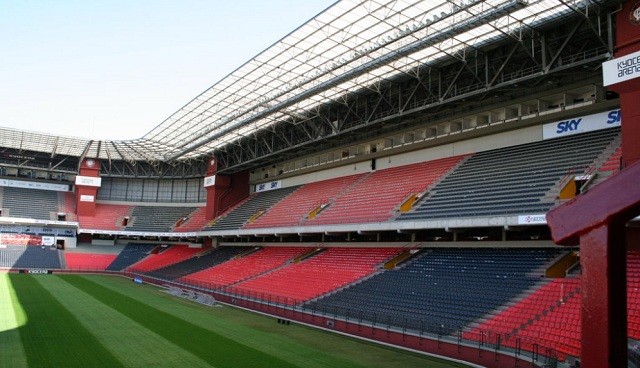 On Monday, 23 June 2014 (9:00 AM Pacific), Australia vs Spain (España) will take place at Arena da Baixada in Curitiba in a match that will decide which team will finish at the bottom of the group and which team will grab the third place.
Fallen giants Spain's stint at the World Cup is something that their supporters and the team itself will have plenty of difficulties to forget. After suffering one of the heaviest and most painful defeats of their history against the "re-born" clockwork orange, Spain tasted the sour taste of defeat once again against a fantastic Chile side that Jorge Sampaoli is helping transform.
On the last Wednesday's match against Chile, the European La Roja exposed, once again, all of their frailties and it didn't take long before the South American team was able to take advantage of such blatantly obvious problems.
On the 20' minute of the match, Eduardo Vargas concluded an excellent team play from Chile by netting in his team's opening goal, leaving the Spanish team once again adrift in their own sea of madness. It wasn't long before the Chilean team managed to grab the second and, just before the break, Charles Aranguiz took advantage from a less conventional Casillas' stop to sentence the match for good.
Spain's team is a good example of how the mighty may suddenly fall, although if we have a closer analysis, we can easily understand the downfall of La Roja is intrinsically related to the end of Pep Guardiola's reign at Barcelona.
Vicente del Bosque, on the other hand, has failed to renew the team, by, for instance, injecting some "fresh blood" into it, and most importantly he failed to pass his own ideas and game principles to a Spanish team that has been on a road to disaster for quite some time now.
As for Australia, the match against Spain will present yet another good opportunity for them to try and win a match at this edition of the World Cup. After losing their opening match against Chile, Australia was defeated once again by the powerful Holland team, although they did manage to leave a very impressive image of themselves.
During the previous two matches, the Socceroos proved that they aren't as "bad" as pundits claimed they were, especially on last Wednesday's match, during which they forced the Dutch team to work extra hard to win the match.
For the clash against La Roja, Ange Postecoglou will not able to rely on the contribution of his most influential player, former Everton attacking midfielder, Tim Cahill (who currently plays for the New York Red Bulls), because of suspension.
Possible Line-ups
Australia (4-3-3) – Ryan – McGowan – Spiranovic – Wilkinson – Davidson – Jedinak – Milligan – Bresciano – Leckie – Oar – Halloran
Spain (4-3-3) – Pepe Reina – Juanfran – Sergio Ramos – Piqué – Jordi Alba – Busquets – Fabregas – Iniesta – Juan Mata – David Silva – Fernando Torres
Australia vs Spain Prediction
Despite Spain's recent poor performances and the obvious decline the team has been experienced, they are favourites to win the next Monday's match. This being said, the most likely outcome is a Spain win.
Spain 2 – 1 Australia
Australia vs Spain Television
The Australia vs Spain match will be televised in the USA on ESPN3 (stream) and Univision Deportes at 9:00 AM Pacific.