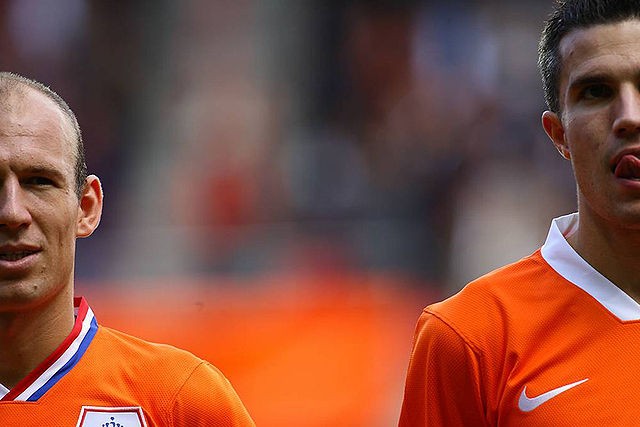 I'm sure many people had their World Cup brackets destroyed because of Spain's elimination. However, we must be fair with the Netherlands and Chile, since they both showed quality football and completely deserve a spot in the last 16. While the pressure is lower because of their sealed ticket to the next round, both teams will want to get ahead and be group champions. This is more important when you look at the still unknown fate of the Brazilian team. Not being 1st in the group could force La Roja or the Oranje to play against the hosts right away, which is something most teams would love to avoid. For the good of the Oranje, let's take a look at what they can do to beat them.
Play as if They Weren't Already Qualified
If the Dutch completely relax and enjoy the fact that they're in the next round, they will be crushed by Chile. La Roja has lethal players in attack that can destroy the Netherlands' weakest line. Because of this, it's best to think they aren't yet qualified in order to get motivated to do a good job against the South Americans. The Dutch never thought they were better than Spain or Australia, they simply went with the flow of the game and stayed true to their style, which proved to be successful as they achieved two great wins. The mental aspect is almost as important as the physical aspect when it comes to winning the most important tournament in football.
Win the Midfield Battle
Vidal is in top form and has guided Chile to a great run. He never gives an inch and will do what it takes to steal the ball and quickly think of the best option for the good of the team. This is also true for Vidal's partner, Marcelo Díaz, who isn't always given the right amount of credit for the work he puts in. Both of them form a solid midfield line that knows how to create plays and how to stop the opposite team. Nigel de Jong and de Guzmán are also a great pair, but they need to play more like they did against Spain than against Australia. The socceroos took control of the game for a decent amount of time and forced the Dutch to resort to a comeback. Chile has more quality than the Aussies and will make the Oranje pay for losing this midfield clash.
Adapt to van Persie's Suspension
Robin van Persie is out because of yellow card accumulation, and that is a huge loss for van Gaal, who will need to modify his strongest line. One option could be to count on Huntelaar, but this will force the team to work harder to provide him with balls. The Schalke 04 striker is more of a poacher than a dribbler, which is bad for the Dutch if he can't be reached. Jeremain Lens is another option for the Oranje. He's more similar to van Persie since he can work as a winger and striker, he's incredibly fast and he's a good dribbler. If van Gaal will rely on counterattacks, speed will be more important, but if he wants to control the game and constantly create opportunities, he needs a poacher up there. However, this doesn't mean that van Gaal couldn't put both of them in and sacrifice a defender. It's up to him to adapt to this obstacle.
Despite the fact that they're both qualified, this game will be a must-watch. Both teams won't know Brazil's place in group A before this game, which puts more pressure on them to gain that #1 spot. It's good to point out that a draw will be enough for the Dutch to gain that top spot, but they shouldn't rely too much on this possibility.