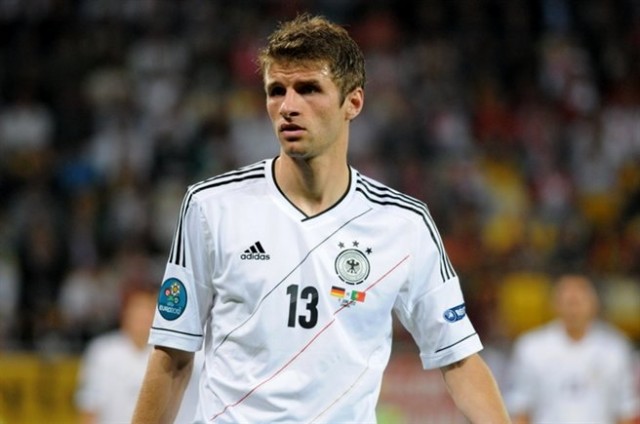 Germany has tied Ghana 2-2
Germany seemed flat and not the "machine" they are supposed to be in their clash vs Ghana. Germany looked threatening, but lacked quality in the final third.  Germany also looked slow and out of position at times.  Germany's fullbacks, Howedes and Boateng, were both natural centre halves, which was exploited by Ghana all game.  Here are the player ratings for the match.
Manuel Neuer – 5:  Neuer did not have his finest game, even if the blame for the goals was not his. Both of the goals were created by very poor defending, but his distribution was not great throughout the game either.  Neuer seemed shaky between the sticks, despite same great saves in the first half.
Jerome Boateng – 5:  Boateng had a solid day playing right back for the Germans.  He was often matched up against his half-brother Kevin-Prince Boateng.  However, he was rarely ever in advanced positions, as normal fullbacks would be.
Per Mertersacker and Mats Hummels – 4:   The normally strong defensive pair lacked pace against the quick Ghanaian side.  They were exposed on numerous occasions and their miscommunication led to Asamoah Gyan's goal.
Benedikt Howedes – 5:  Howedes was, like all the other German backs, exploited by pace.  Howedes' passing was also sub-par, practically giving the ball to the Ghanaians on multiple occasions.  Contrary to the rest of his game, he did have a shining moment, which came in the 69th minute when his header was redirected into the goal by Miroslav Klose.
Philipp Lahm – 7:  Lahm stood strong in the defensive midfield role that he has become accustomed to at Bayern Munich.  Lahm's distribution and vision was impressive throughout the game, as he threaded through multiple intricate passes that led to plenty of chances.
Sami Khedira – 4:  Khedira was a non-factor in his time on the pitch.  He did not make any advanced runs, as he did in the game against Portugal and was rarely seen. He did make some good tackles, but was not enough of a presence to influence the game.
Toni Kroos – 6:  Much like Sami Khedira, Toni Kroos was rarely found on the field.  He did delivered some blistering corner kicks, but otherwise did not effect the game dramatically.  Kroos did have moments of greatness, striking a wonderful pass to Mario Gotze, which earned him an assist, but overall did not have the consistent quality throughout the match.
Mesut Ozil – 7:  Although Ozil lacked conviction in the final third, he did demonstrate his world class play making abilities.  Ozil was most often found on the right side, matched up against Juventes left back Asamoah.  Because Asamoah plays more of an attacking role, Ozil was often left alone, which allowed him to create many opportunists for both Gotze and Muller.  Ozil's attacking awareness led him to make numerous penetrating runs into the Ghanaian third, helping him receive a match rating of 7.
Mario Gotze – 8:  Always looking dangerous, Mario Gotze was twisting the ankles of Ghanaian defenders.  He scored the opening goal to the match, after a great run that saw him get a free header, which luckily deflected off of his own knee into the back of the net.  His attacking ability and creativeness proved key when he was in the match, and I was surprised when he was subbed off in the 68th minute.
Thomas Muller – 7:  Muller, usually very effective, did not have his best game.  Muller did not score, breaking his four game-in-a-row scoring streak.  Muller had chances to score, especially off of multiple Ozil crosses.  He did, however, create good scoring opportunities for teammates Toni Kroos and Mario Gotze.
Subs
Shkodran Mustafi – 3:    Mustafi had relatively no impact on the game, except that he allowed Andre Ayew a header that equalized the game at 1.
Bastian Schwienstager – 7:  An impact sub, Schwienstager made an immediate impact on the game.  Right after he came on, Germany scored and he got into advanced positions for the time he was in.
Miroslav Klose – 9:  After just one minute on the pitch, Klose scored his 15th career goal, tying Ronaldo for most all time.  Klose's goal was a "strikers goal", a clinical finish at the back post off a corner.  His immediate impact earned him a match rating of 9.