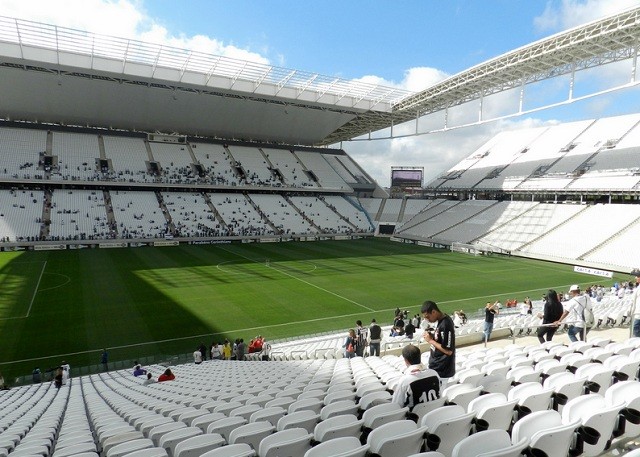 The Uruguay vs England (Inglaterra) World Cup match will take place this Thursday, June 19, 2014 (12:00 PM Pacific) at the Arena Corinthians in Sao Paulo. Roy Hodgson is likely to restore Wayne Rooney to the number 10 role for the crunch meeting with Uruguay on Thursday, a role which saw Rooney as England's top scorer during the qualifying campaign.
Despite many positives against a typically well-organised Italian side, England went down 2-1 and, as is usually the case when the national side underperforms, Rooney has been widely criticized for his display, despite being used out of position.
The media circus surrounding England's best player has been nothing more than a side-show however, and the squad as a whole has rallied around him, while there is also an air of positivity in the camp, as they wait for the likely confirmation that Luis Suarez – who has declared himself fit – will be selected for Uruguay.
Uruguay looked remarkably lightweight at the back as they went down 3-1 to Costa Rica, however the return of Suarez will certainly offer encouragement for this must-win Group D clash.
For the neutral, seeing two of the best players in the Premier League playing in their preferred positions should contribute to a game that will be worthy of what has thus far been an excellent, and extremely entertaining World Cup, in stark contrast to the tournament held in South Africa four years ago.
England Team News
The only potential changes in personnel for England involve two Southampton players coming in. Adam Lallana may be in contention to replace Danny Welbeck, while Luke Shaw must be in contention after Leighton Baines was badly exposed against the Italians. While Rooney may not necessarily have provided the best cover for the left-back, the decision to leave Ashley Cole at home may come back to bite Roy Hodgson if the left-hand side is targeted as effectively as it was by the Italians.
It looks as though the impressive Sterling will play on the right, with Lallana or Welbeck on the left. Much has also been written about Jordan Henderson in central midfield, but in truth it is unlikely he will be dropped in favour of an out-of-form Jack Wilshere, an aging Frank Lampard (who has never exactly set the world on fire when combining with Gerrard), or the raw and youthful exuberance of Ross Barkley, who may be best coming from the bench. Oxlade-Chamberlain had hoped to be in contention for this game, but it looks as though the Arsenal star may have to wait slightly longer to be declared fully fit.
Uruguay Team News
The big news is that Suarez will most likely start for the Uruguayans. He will take his place on the left hand side of a three-pronged attack featuring Forlan and Cavani, who both looked like they were missing the vital cog in their system against Costa Rica. Pereira will of course miss out having received a red card at the end of that game, and both Walter Gargano and Cristian Rodriguez will be worried about holding on to their places following their ineffectual displays.
Uruguay will certainly be looking to rile up Wayne Rooney from the start of the game, the Manchester United star has always had a questionable temperament, and with the added consternation of a massively over-critical appraisal of his display in the first game, his mentality going into this game can rightly be called into question.
Uruguay vs England Prediction
Nothing less than a win will do for either team. If the tournament and both sides' first games are anything to go by, it should be an open affair with goals aplenty. There is certainly enough attacking talent on display – and enough defensive frailties – for both sides to fancy their chances of scoring one or two. If the game finishes as a draw, qualification for the two nations will be reliant on results elsewhere, to have it all in their own hands; a win is the only option. But this one's a draw for me… Prediction: England 2 – 2 Uruguay
Uruguay vs England Television
The match will be televised on ESPN, Univision and ESPN 3 (stream).