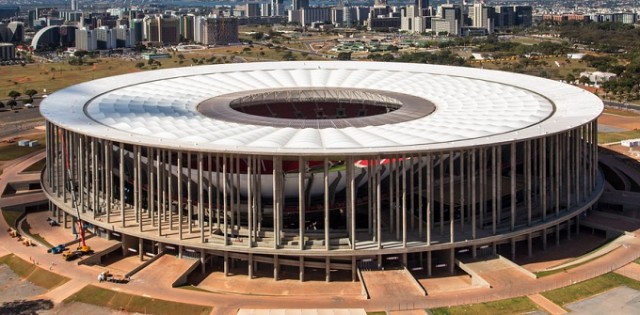 Colombia vs Ivory Coast (Costa de Marfil) will take place at the Mané Garrincha stadium in Brasilia on Thursday, June 19 (9:00 AM Pacific, 1:00 PM local time), in a match between the two leaders of Group C.
Both teams won their first matches and therefore they share the top of the group, and if any team wins on Thursday they would be very close to the round of 16 – they can even pass the group stage if the match between Greece and Japan finishes in a tie.
Colombia defeated Greece by 3-0 last Saturday. Therefore the players are in a very good shape because the team played a good game and won by a big difference. They also breathed a sigh of relief since they won the first match in Colombia's return to the World Cup after a 16-year absence – they hadn't qualified since France 1998.
The goals were scored by Napoli left-back Pablo Armero (who played on loan in West Ham United this year), River Plate striker Teófilo Gutiérrez and Monaco midfielder James Rodríguez, who was the star of the match.
For Thursday match, Argentinean manager José Pékerman can't rely on Sevilla striker Carlos Bacca, who got a muscle injury in Sunday training session and will be out for seven to ten days, so he could only return to the pitch if Colombia plays the round of 16.
Bacca is the fifth injured player in Colombia and the first one during the World Cup – striker Radamel Falcao (Monaco), defender Luis Amaranto Perea (Cruz Azul), and midfielders Edwin Valencia (Fluminense) and Aldo Ramírez (Atlas) were out of the 23-player list due to injuries.
The good news for the Cafeteros ("The coffee growers") is that Inter midfielder Fredy Guarín can return to the lineup after a one-match ban that left him without playing against Greece – he had seen the red card in the last official match of Colombia, against Paraguay in Conmebol qualification.
On the other hand, Ivory Coast also won their match last Saturday, 2-1 against Japan. After being down by 0-1, they made a comeback in the second half as they scored two headed-goals in three minutes, by Wilfried Bony and Gervinho.
The Africans are playing their third World Cup in all history (and the third in a row too), and they're looking for qualifying to the round of 16 for the first time, since in 2006 and 2010 they didn't pass the group stage.
The main question about the lineup is about Galatasaray striker Didier Drogba, who came to the pitch from the bench in the match against Japan a couple of minutes before the two goals.
Drogba is one of the most popular players in Ivory Coast since he's the top scorer of the national team in all history with 65 goals in 102 matches, and also because of his great moments in Chelsea between 2004 and 2012, when he scored 100 goals in 226 matches and helped his team to win three Premier Leagues and a Champions League.
The Elephants' manager Sabri Lamouchi spoke about that issue: "People love Didier Drogba and I know there are a lot of lovers of Drogba's style. But you have to understand the last time he played 90 minutes was a few months ago in Turkey. He's just recovered from injury. He made a lot of sacrifices to be here at the World Cup."
In addition, the French boss said that if any team wins on Thursday it will be almost qualified for the round of 16: "It's looking a little bit like a final of the group. I'm pretty sure the winner will be qualified for the next phase."
After this match, Ivory Coast will face Greece in Fortaleza and Colombia will face Japan in Cuiabá, both on Tuesday, June 24.
Colombia vs Ivory Coast Prediction
In my opinion this will be a very exciting match, since both teams have many great players in their squad such as Manchester City midfielder Yaya Touré, and strikers Gervinho (Roma) and Didier Drogba in Ivory Coast, and defenders Pablo Armero and Camilo Zuñiga from Napoli, midfielders James Rodríguez (Monaco), Juan Cuadrado (Fiorentina) and Fredy Guarín (Inter), and striker Jackson Martínez (Porto) in Colombia.
I think that it will be a tough match for both teams, but in my opinion Colombia has a better team, and they'll certainly have the support of the people in the stadium like in the match against Greece. I believe that it will be difficult for Ivory Coast defenders to stop Colombia great offensive midfielders, and that will be the key of the match.
Colombia 2 – 1 Ivory Coast
Colombia vs Ivory Coast Television
The Colombia vs Ivory Coast match will be televised in the USA on ESPN3 (stream) and Univision Deportes at 9:00 AM Pacific.