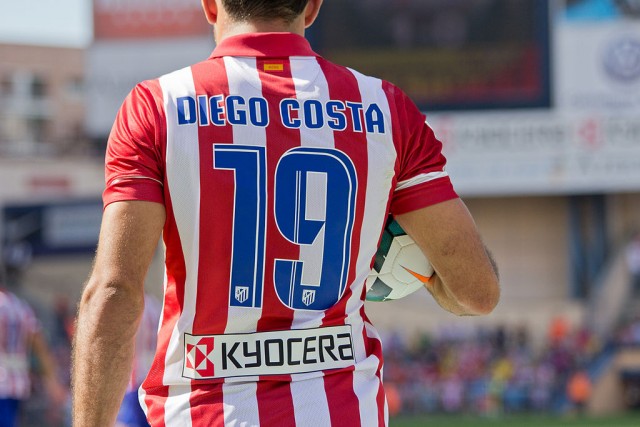 Last week, the Netherlands clearly dominated Spain with better football. They were faster, stronger, and smarter on and off the ball. Today, Chile outplayed Spain. But this time it seemed like Spain simply forgot how to play.
Changes were made to the starting XI, but not to the style of play. We rate Spain's players from 0-10.
Casillas (5): Might this have been the captain's last game for Spain? Just as last week against Holland, Casillas did nothing to help his team stay in the game. Another mistake for the second goal will be our memory of Casillas in this match. At first, it looked as if the Spanish goalkeeper had blocked a great shot from Alexi Sanchez, yet he managed to punch the ball directly to Aranguiz instead to the outsides. Maybe Reina or De Gea should play the last match for Spain.
Azpilicueta (5): This time around, Azpilicueta got to see more of the ball. He continued his runs on the right flank without leaving his back unattended to counters from Chile. His crosses were inefficient. Even with more opportunities on the ball, Azpilicueta never proposed much danger.
Martinez (4): Martinez did not do any better than Pique (the man he replaced in the starting XI). He lost his mark and allowed Vargas to score the first goal. But who can blame Martinez. The center-back position is not his natural position. Who knows how he would have done if given the chance in the holding spot.
Ramos (4): The Real Madrid defender stayed back a bit more than against the Dutch. He tried to be cautious against the counter. Nevertheless, Ramos let Vargas run by him without the ball for the first goal. Even with his best efforts, he could not stop the second goal from happening.
Alba (3): Another goal from his side gave Chile the lead. Although he is not to blame for Chile's first goal, Alba could not stop the counter. After falling behind, the left-back could not offer much offensively to get Spain back into the game.
Busquets (5): Good news is that none of the goals came through him. Bad news is that he missed a chance in front of goal. Busquets missed a golden opportunity after Costa's "Chilena" goes wide. A simple touch of the ball would have pushed the ball across the goal line. Since he was somewhat solid defensively, the Barcelona midfielder forced Chile to play around him instead of through him. Most of Chile's threats came from the wide players punching through balls in the channels.
Alonso (3): Alonso was battling Silva for the worst midfielder of the match. He was ineffective with his passing. It is as if Alonso forgot how to do a long pass. And worst of all, Alonso gave away the ball that led to Chile's first goal. He was subbed off for Koke at halftime. This was not the same Xabi Alonso we saw in Real Madrid this past season.
Pedro (4): Vicente del Bosque did the proper choice in starting Pedro. Judging from the first match, Spain needed width in their system. A few times throughout the match, Pedro proved the importance of having at least one winger in a 4-2-3-1/4-3-3 system. But despite his runs on the flank, it was just not meant to be for Pedro and his teammates.
Silva (3): If Silva had a decent first half against Holland, "El Chino" left his talents in that first half. Since Xavi Hernandez was left on the bench, Silva took the honor of conducting the central midfield. There were a few sparks between him and Iniesta on the left. But never did Silva deliver a dangerous ball for Costa. His performance in the central role forced Iniesta to work even harder.
Iniesta (6): It is hard to rate Iniesta because he does not have assists to show for his efforts. He was the hardest working player in the midfield. He attempted to stay wide to stretch Chile's back three. Then he moved inside to connect with Silva in one-two combinations and allow Alba to overlap on the outside. Iniesta had one dangerous shot at goal—the hardest Bravo worked all night.
Costa (3): Do you think Costa regrets not going to Brazil. The Brazilian-nationalized Spanish player puts effort in every of his runs. But he simply does not fit into the system. There were a few times where Costa looked to create trouble for the center-backs; however, Costa needs his midfield to be more direct in their plays. Costa is not the answer or the problem for Spain.
Substitutes
Koke (6): Koke came in for Alonso in the second half. He had an instant impact on the game. You can see his hunger for the ball from the first few seconds in the match. The Atletico man pressed Chile's midfielders to play quicker; therefore, he caused them to make mistakes and surrender possession. His passes were simple but safe. I wonder what would have been if he had started.
Torres (3): We cannot expect Torres to safe Spain with the little time given to play. Instead of taking off Costa, del Bosque should have played both strikers side-by-side. Two strikers might have proved more dangerous than Costa or Torres alone.
Cazorla (4): He did not play much. But he had more shots on goal than most players on his team (one). His free kick forced Bravo to wake up from his slumber. He played more direct than Silva and Iniesta. Del Bosque may regret not putting him in earlier on.