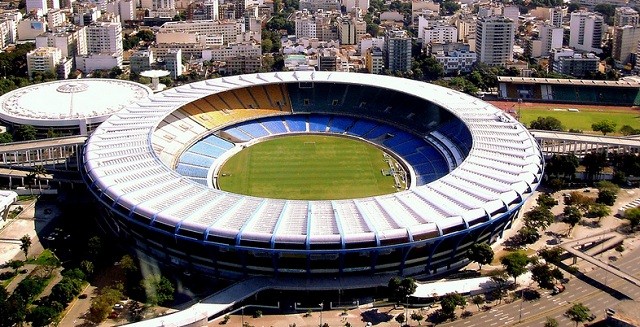 On Wednesday, 18 June 2014 (12:00 PM), Spain (España) vs Chile will take place at the emblematic Estádio Maracanã in Rio de Janeiro for both sides' second match at the 2014 World Cup.
After being severely hammered by the Netherlands last Friday, Spain cannot afford any more setbacks if they want to continue on to the next round of the competition. Vicente Del Bosque's boys looked fairly uninspired against Holland as they failed to materialize their so-called tiki-taka style that seems to have entered on a drastic countdown to extinction.
La Roja's ball-possession game proved to be rather ineffective against a hard working Dutch side that easily took control of the midfield line and their lack of ideas up in the front was blatantly obvious.
The Spanish manager's player choices for the World Cup were somewhat controversial, especially regarding the centre forwards he picked and if one considers that he left out important footballers such as Álvaro Negredo, who netted in 23 goals this season.
Regarding the match against Chile, Vicente del Bosque has already underlined that he will not make changes in his team just for the sake of it and that Spain cannot divert their attention from their usual game plan just because of a heavy defeat.
For the match against Chile, the Spanish head coach will not be able to count on the contribution of David De Gea, who suffered a leg muscle strain that will keep him out of, at least, the group stage games.
As for Chile, a win against Spain could grant them a ticket to the next stage of the tournament. Jorge Sampaoli's men put up a quality first-half on their opening match against Australia but struggled to maintain their 2-0 lead after veteran Tim Cahill brought the Socceroos back into the match with a powerful header on the 35th minute.
The South American La Roja looked fairly fatigued, especially during the second-half, and at the same time they exposed some blatant frailties in their defence line.
Chile have never defeated Spain on official matches and next Wednesday's match presents a good opportunity for them to achieve such deed.
The Chilean side normally presents a 3-4-3 "innovative" tactical approach (fairly similar to the one Jorge Sampaoli used at Universidad de Chile) based on a high pressure ball possession style that often confines their opponents to their own half of the pitch.
Possible Line-ups
Spain (4-3-3) – Casillas – Azpilicueta – Sergio Ramos – Piqué – Jordi Alba – Xabi Alonso – Busquets – Xavi – Iniesta – Juan Mata – Fernando Torres
Chile (3-4-3) – Bravo – Jara – Medel  – Isla – Vidal – Díaz – Mena -Aránguiz – Valdivia – Sánchez – Vargas
Spain vs Chile Prediction
It will certainly not be easy for Chile to fully impose their game against a powerful side such as Spain, but it will surely be interesting to see how two teams with similar game styles will fit into each other.
Spain have to be considered favourites for the next Wednesday's match, even after being completely smashed by the new "clockwork orange"; nevertheless, Chile cannot be ruled out of the equation, as they probably now have more quality than ever to claim the match as their own. This being said, the most likely outcome is a Chile victory
Spain 1 – 2 Chile
Spain vs Chile Television
The Spain vs Chile match will be televised in the USA on ESPN3 (stream) and Univision Deportes at 12:00 PM Pacific.