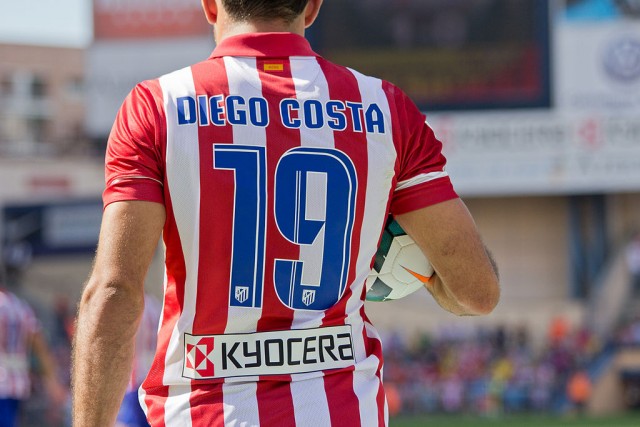 Spain will be heading to the legendary Estadio Jornalista Mario Filho- Maracana to face Chile in round two of group matches. After the match against the Netherlands, Spain have a lot to give to their supporters. Even after one match, no one expected the Spanish to be at the bottom of Group B. And they face another big challenge against Chile. "La Furia Roja" must learn from the match against the Dutch and play more vertical, watch for fast breaks, and add a spark to the starting XI.
Play Vertical Football
A problem much criticized from Spain is their build up of play. Now, I am not recommending that the Spanish move away from their style of play, but merely add a bit of variety. With the addition to Diego Costa on the attack, Spain have more of a reason to attack Chile's defense with long balls. They need to let Costa do what he does best and beat defenders on the run.
Chile do not play a high line like Holland, but they do send both full-backs on the attack. Chile will open up opportunities for Xabi Alonso to send Costa on the run. Even Fernando Torres can come in and benefit from through-balls behind the defense. Both of these strikers are not static poachers. Spain cannot get the best of them if Costa and Torres have to wait for the play to build up from the back.
Watch for Counters
Holland demolished Spain on counter-attacks. Chile based their football on fast counters. Spain's biggest weakness are defending the counters. Is this all set for Spain to fail?
"La Roja" have to fix this problem. Since Spain depend on attacking full-backs, huge channels of space are left on the flanks. Alexis Sanchez and Eduardo Vargas specialize on starting their attacks from the width. Jordi Alba and Cesar Azpilicueta/Juanfran Torres will have to balance their runs when attacking. With five goals against them, Spain cannot leave Gerard Pique and Sergio Ramos drowning in the shallow.
Another tactic Vicente del Bosque should think about is his high line. Del Bosque typically asks Ramos and Pique to push up and his midfield to press high. A huge amount of space is left in front of Iker Casillas and the center-backs. Examples can be seen on Van Persie's first goal and Robben's first goal. Long balls over the defense or through balls in-between the defenders overwhelmed the center-backs. Maybe del Bosque should think about staying back a little against Chile.
Start with another XI
I feel this is the biggest key del Bosque should look at. Spain have become too predictable with the starting XI. Most opposing managers can prepare against the Spanish because we all know what to expect from them. Changing the starting XI can trickle down to fixing other key errors.
Del Bosque has a competitive bench to use against Chile. I mentioned before Pedro Rodriguez needs to start for Spain on the flank. Jesus Navas would be the preferred winger as he delivers pure runs down the flank and crosses from the wide areas. Due to his absence in the World Cup, Pedro is the next best option. Pedro can offer directness on the channels in order to stretch Chile's back four; therefore, this allows Costa to split defenses in the middle. And with Pedro offering width, the right-back (whether Juanfran or Azpilicueta) can stay back and defend the fast breaks from Vargas.
Another option can be to start Javi Martinez in defensive midfield. Del Bosque would have to sacrifice Alonso or Busquets and put in a player hungry to prove his value to Spain and Bayern Munich. Martinez displays great defensive qualities and beautiful touches on the ball.
Lastly, players such as Santi Cazorla, Juan Mata, or Koke can add variety to Spain's midfield. Cazorla is accustomed to facing teams in the Premier League that pride themselves on counter-attacks, such as Chelsea. Being part of Atletico Madrid's rise this past season, Koke is a reliable choice. He maintains possession while giving quick passes to strikers and has a connection with Costa.
Del Bosque has infinite options for this system. He has footballers that play reactive or proactive football. They can establish a different style that can vary Spain's system. No matter the approach, Spain can only win if they plan on defending their title to the next round.